Press
AUSTENSIBLY ORDINARY mentioned in FIRST for Women!!
In the April 8th, 2013 edition of FIRST for Women, AUSTENSIBLY ORDINARY is listed in the feature, "The 6 Paperbacks We're Reading Now."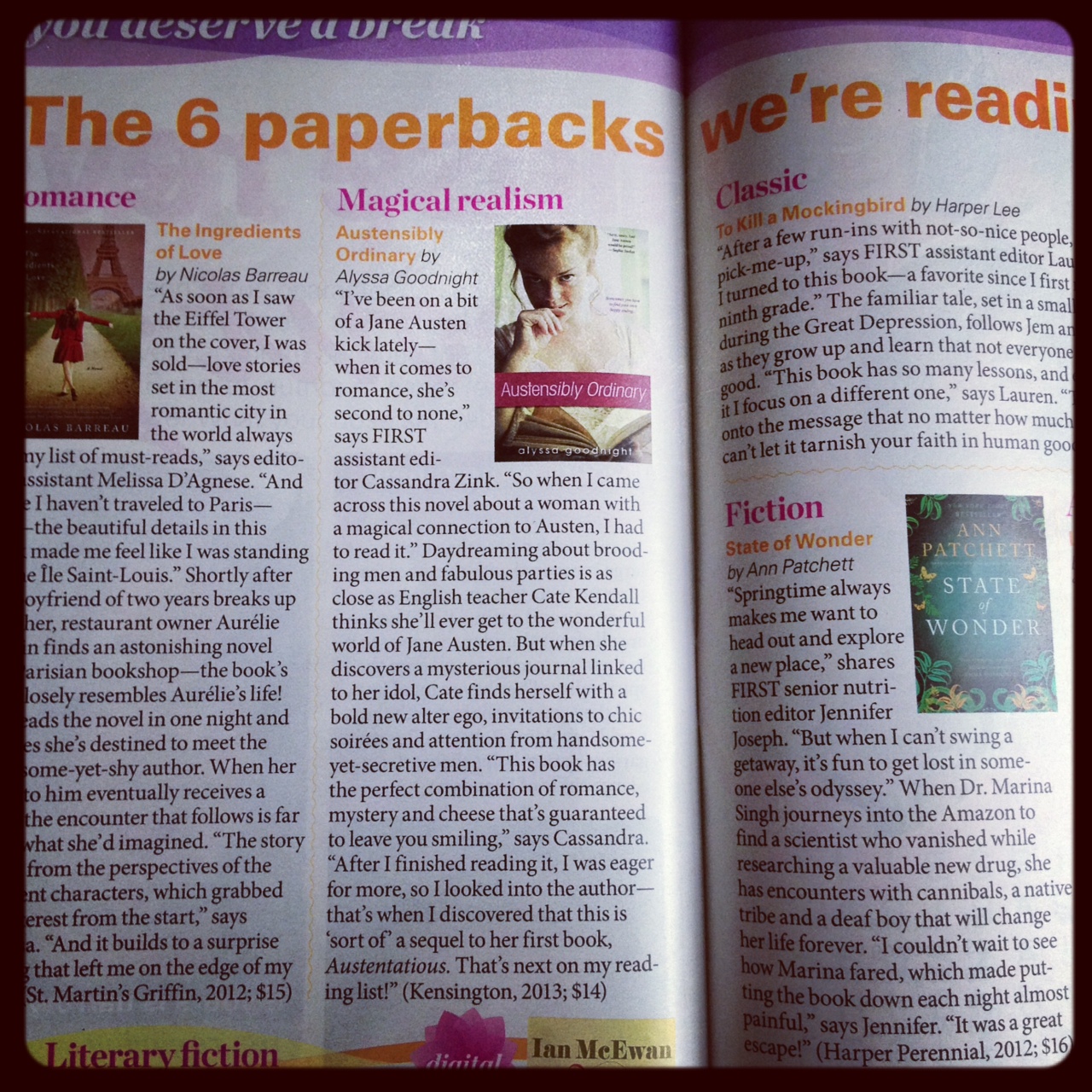 Mentioned on USAToday.com as a "Hot Read to Warm Up Our Extremities"
February 1, 2014
Featured on SheKnows.com as a "Book to Cuddle Up With"
January 2, 2013
Reviews for Austensibly Ordinary:
"You'll love getting tangled up in this delicious novel."
— SheKnows.com Read the entire review!
"This novel heats up as the romantic plotline does and keeps on sizzling until the end… Even non-Austen fans can enjoy this novel, as the quirky characters, complicated secrets and romantic entanglements are enjoyable and captivating."
— Romantic Times Book Reviews Read the entire review!
"The book is peopled with interesting, fleshed-out characters, a good sense of place (Austin, TX), a fun mash-up of elements, and a fantastically fun voice. And the healthy dose of supah-sexah doesn't hurt, either… Highly recommended for fans of Austen adaptations, fun contemporary romance, or those in need of a good funk-breaker book."
— Misty Braden, The Book Rat Read the entire review! Read the interview with Cate and Ethan and me here!
"Full of magic, delightful charm, and Austenesque flavor – this is one series I am dying to see continued! "
— Meredith Esparza of Austenesque Reviews Read the entire review!
"Austensibly Ordinary is really a fun, light romp into the world of Jane Austen and romance. I loved how the story stays tethered to Austen, though she wasn't the entire focus."
— Lisa Galek for Austenprose Read the entire review!
"An utter delight from start to finish… I deem Austensibly Ordinary to be a delightful romance, with Austen-y goodness and a bit of fantastical silliness."
— A Reader of Fictions Read the entire review!
"A novel filled to the brim with uber goodness that you won't be able to put down."
— Satisfaction for Insatiable Readers Read the entire review!
"Alyssa Goodnight has a light-hearted grasp of human nature that is akin to Jane Austen, and she is easily adept at sharing the hearts of her characters. Reading one of her books is up-lifting. It makes you smile!"
— A Bookish Librarian Read the entire review!
"Austensibly Ordinary was an absolutely delightful modern day romance with an Austen twist that had me giggling aloud and falling in love with the characters."
— Kimba, the Caffeinated Book Reviewer Read the entire review!
AUSTENTATIOUS in Entertainment Weekly!!
In the October 11, 2013 issue, AUSTENTATIOUS  is mentioned in the article, "Will Jane Austen Ever Rest in Peace?"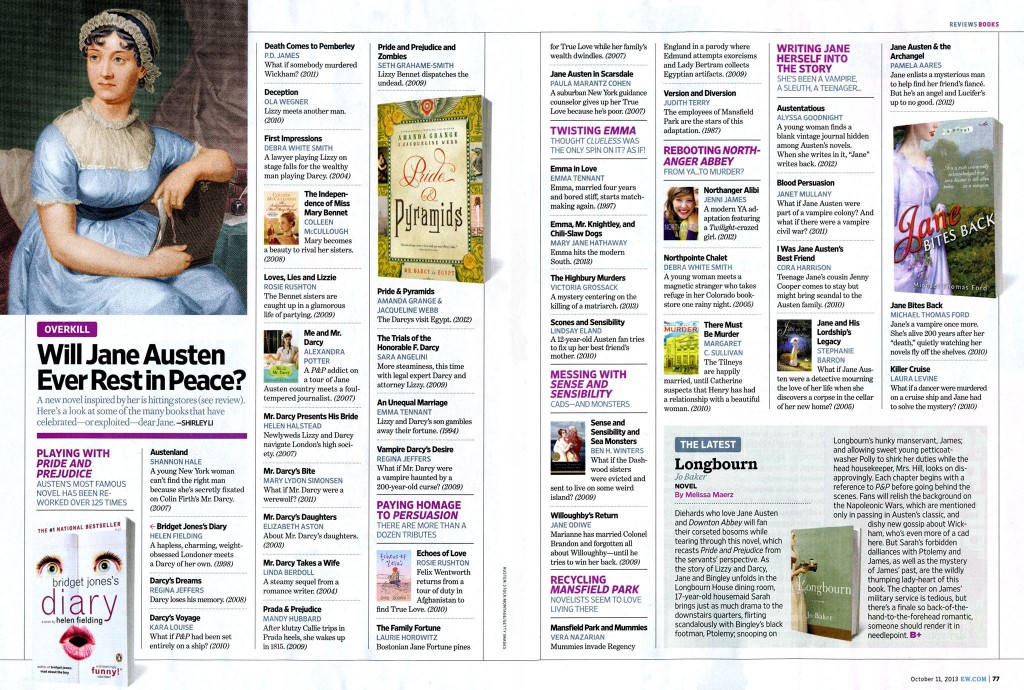 AUSTENTATIOUS featured in Woman's World!!
In the February 13, 2012 issue of Woman's World magazine, AUSTENTATIOUS is featured as one of the Swoon-worthiest New Romance Novels!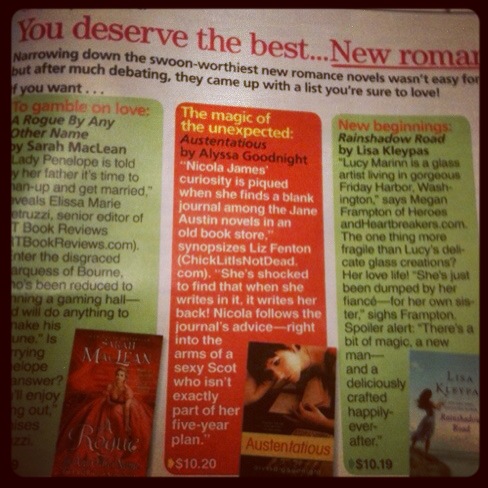 Reviews for Austentatious:
"Jane Austen meets Austin, Tex., in this fast-paced, quirky novel about the unpredictability of love. … Goodnight's breezy style with a believable heroine, lively conflicts and lots of best-friend confidences elevates this above the usual chick lit fare."
— Publishers Weekly Read the entire review!
"This humorous romance will appeal to all Austen fans while bringing a fresh twist with its magic journal."
— Booklist Read the entire review!
"AUSTENTATIOUS is a fresh romantic adventure with a cast of characters who kept me turning pages way past my bedtime.  Jane Austen does her part to Keep Austin Weird, and poor Mr. Darcy may have to hire a publicist once readers spend a few pages with a certain Scottish rocker."
— Cindy Jones, My Jane Austen Summer
"A fun, enjoyable read."
— Romantic Times Book Reviews  Read the entire review!
"Janeites and chick lit fans alike will enjoy this wonderful romp into modern day romance with the ideal Miss Matchmaker from the past leading the way. "
— Courtney Webb for NY Journal of Books Read the entire review!
"I am in love with this quirky, offbeat, and enchanting novel! Never have I wished to be in a novel more! … Magnetic, compelling, and comedic – Austentatious is a novel you should not miss! This romantic and magical adventure is sure to entertain and delight fans of Jane Austen and the Austenesque genre! "
— Austenesque Reviews Read the entire review!
"Goodnight's writing is lively, engaging, and enjoyably fast-paced.  Austentatious will be of particular interest to those readers looking for something more modern to complement their Austenesque tastes."
— Aia Hussein for Austenprose Read the entire review!
"What a lovely romp of a read!!! I easily devoured it in one sitting – laughing and smiling.  I absolutely adore this Jane Austen-esque book. It is full of wit, comedy, magical journaling and utterly cute and ahhhworthy romance. Goodnight has done an excellent job capturing the essence of Jane Austen and her characters – creating a modern world for them to live.  If you're a fan of Jane Austen modern re-telling's, then this is a MUST read!"
— Girls in the Stacks Read the entire review!
"AUSTENTATIOUS is an experience in suspended romantic reality, but worth it, when you know you're going to "have your cake and meet him, too."
— Chick Lit Central Read the entire review!
"It is such a fun, cute read and the romance in it is excellently sweet! "
— Book Briefs Read the entire review!
"This clever, witty, and quick-paced novel was a joy to read!  …  Do yourself a favor, read AUSTENTATIOUS, and learn to believe in Magic!"
— Musings of a Book Lover Read the entire review!
"I will have to say that Austentatious absolutely captured my heart and wouldn't let go and I couldn't be happier!"
— Books Read 'N' Makeup Done Read the entire review!
Reviews for Unladylike Pursuits:
Nominated for Best Regency in the Affaire de Coeur 2006 Reader/Writer Poll
"Emily's joie de vivre is contagious, and Goodnight's romance is irresistible."
— Maria Hatton for Booklist
"This debut novel by Alyssa Goodnight is wonderful, filled with laughter and passion. Ms. Goodnight promises to be an author to watch. I am eagerly anticipating her next book. Don't miss this winner."
— Jeannine Birckbichler for Affaire de Coeur
"…there is a charm and innocence about the book that I have not seen for some time. Of course, this may be due to the fact that the author is new to the publishing world. Goodnight does not seem to be writing to achieve anything other than to write a delightful romance – and that is how the book comes across, as downright charming… The book works because it knows what to focus on and does not try to be too many things at once. It also flows quite well, with an interesting plot and interwoven characters. Ultimately, even with the minor flaws, this is really one of the better European Historicals that I have read this year and I certainly look forward to reading more from this author. Hopefully, her future books will be able to retain the appealing innocence found in this one.
— All About Romance Read the entire review!
"Author Alyssa Goodnight has crafted a superbly imaginative tale in UNLADYLIKE PURSUITS. Not only is the story extremely well written, but it holds the reader's attention in the way that only a truly good story can. Once picking up UNLADYLIKE PURSUITS, I couldn't seem to put it down. Ms. Goodnight's novel has all the qualities of a first-rate historical romance: realistic and engaging characters; sweet and sexy romantic encounters; a fast-moving plot; an engaging historical setting and a feel-good ending. Rife with humor, tenderness and romantic subtleties, UNLADYLIKE PURSUITS gifts readers with that most coveted of reading experiences: escape from the daily grind into the welcome fantasy of a fairytale filled with love and adventure."
— Janean Nusz for The Road to Romance Read the entire review!
"Secondary characters refuse to take a back seat in this light, humor-filled story set in English 1800s. Although some sections are heavy on introspection, it does permit the corresponding character's thoughts and motivation to be captured in detail. I would like to have heard more from the hero throughout the book, since the second half of this story moves much more quickly once the hero plays a more prominent role. At that point, you won't want to put it down."
— Margaret Ohmes for Fresh Fiction Read the entire review!
"Ms. Goodnight tells a good story and her imagery is the best I've read in a long while… Ms. Goodnight has a great wit and there were some very funny moments in the story… Unladylike Pursuits is a fun story, with a loveable hero, a mostly likeable heroine, a truly sinister villain, and a feel-good ending. I look forward to reading Ms. Goodnight's future books as I think she has a lot of potential."
— Valarie Pelissero for Rakehell Read the entire review!
"Alyssa Goodnight has written one of the most elegant stories that I have read in a long time…her words paint a masterpiece. I would rank Alyssa Goodnight's work with Kathleen Woodiwiss. I am honored to give this awesome book, UNLADYLIKE PURSUITS, Romance Junkie's highest honor – 5 ribbons."
— Big Momma for Romance Junkies Read the entire review!
"Goodnight brings such energy into the tale, she makes it fresh and a delight to read. Goodnight's story is imaginative, the characters charming, complex…A sexy romance that moves at a heady pace, showing this is an author to take note of for future books."
— DeborahAnne MacGillivray for The Best Reviews Read the entire review!
"Alyssa Goodnight skillfully swaps between the main characters' point of view to give a compete picture of events that is often amusing to the reader. A nice light read that is long enough to get involved with."
— Tash for Beauty and Lace, Read the entire review!
"This historical is full of adventure, secrets, and romance. The characters are exceptionally written, with plenty of depth and emotion. Historical lovers will not want to miss this fast paced, exciting romance." Rating: 5 cups
— Wateena for Coffee Time Romance Read the entire review!