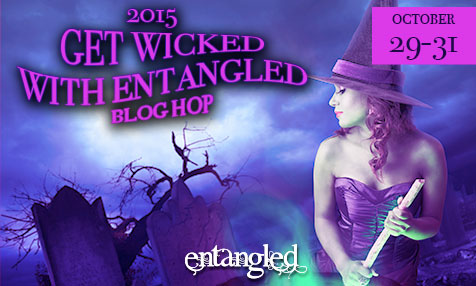 ******* CONTEST NOW CLOSED. MELISSA N. WAS THE WINNER, SELECTED BY RANDOM.ORG *******
Hey y'all!
My Entangled Select Contemporary novel JUST SAY YES released in August…
Single mom Jade Moran isn't ready for any big changes in either her horrible '70s kitchen or her romantic life. Her ex did a number on her, and she isn't interested in getting hurt again. But when she meets a super-hot contractor, she wonders if avocado appliances are on the way out and romance is on the way in.
Max Gianopoulis doesn't have a clue why he's so enchanted by Jade. She's almost as big a mess as her kitchen, and he's a guy who likes to keep things simple. He let himself get involved with a previous client, and he's not interested in repeating the experience. But Jade has turned up the flirty heat – and he can't keep his hands off her.
With everything moving too fast and coming too easy, Jade's insecurities kick into high gear. She's not sure she can trust another man again – and she definitely doesn't believe in magic.
…and given that my hero, Max Gianopoulis, was inspired by Neal Caffrey (aka Matt Bomer in White Collar), I couldn't resist creating my own meme with a hunky image of Bomer and a wicked quote from Just Say Yes.
A bit of background: Max has just invited Jade to watch The Avengers with him on the lawn after dark.  (Imagine that's grass beneath him and not carpet.)  She's waffling because she's afraid she won't be able to keep her hands off of him.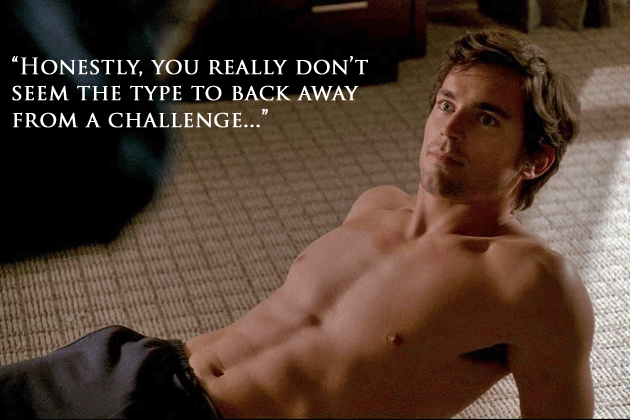 As you can imagine, Max can be very convincing, and soon, Jade's given in, and things are heating up…
"But as the minutes passed with adrenaline pumping continuously through her veins, keeping her in a state of constant, edgy awareness, she came to an unexpected decision. There was a way to avoid all this angsty uncertainty. Okay, maybe "repressed lust" was the spot-on terminology.
She didn't have to wait and wonder and, yes, kind of hope he eventually made a move. She could do it.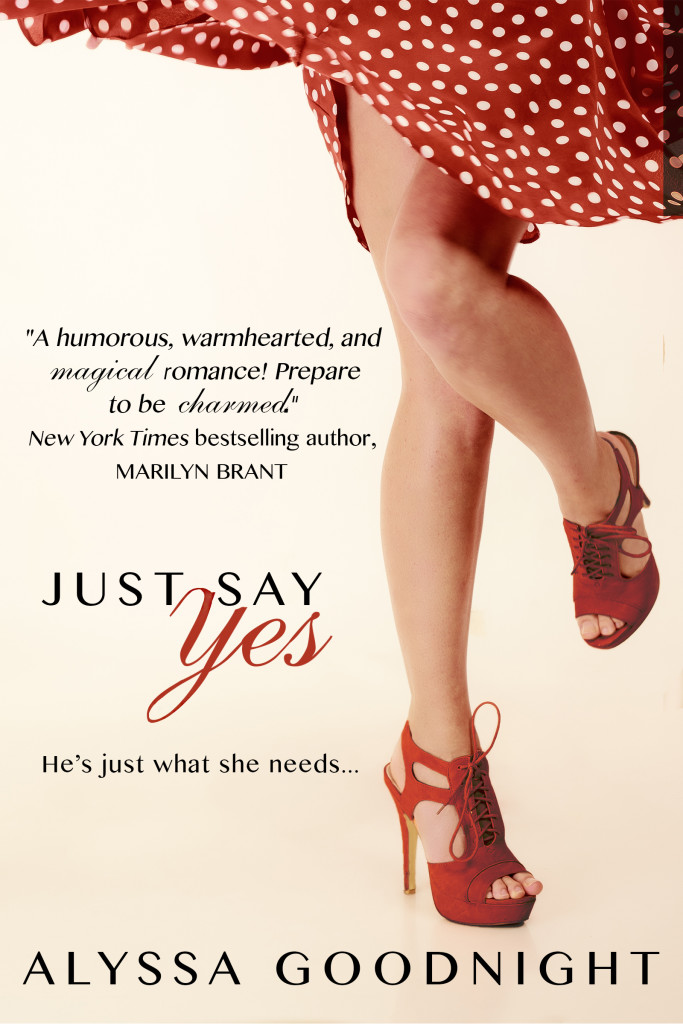 One kiss didn't mean anything. Okay, one more kiss. The first one had been an anomaly—unexpected by both of them—and she'd survived it with no adverse effects. More or less. So, beyond being a huge tension reliever—she hoped—what was one more? Right now she was part consenting adult, part nervous wreck, and the combination was making her twitchy. She wouldn't be able to relax until it was done.
Setting her beer in the grass, she closed her eyes, said a quick prayer to whoever might be the patron saint of awkward situations, and, in one semi-smooth move, leaned into him, fisted her free hand in his shirt, and tugged him toward her. Staring into his startled eyes, her breath caught, and she lost her nerve.
As the moment hung between them, the scent of popcorn and dark beer and spring grass crowding in, he didn't move, waiting. Gathering her courage, she slowly dipped her mouth to his, feeling that first velvet touch, and then, quickly, the seductive slide of urgent lips and tangled tongues. Jade let out a breathy sigh, overwhelmed with relief to have finally reached this moment."
Now for the treat!
I'm giving away an ebook of JUST SAY YES (or a gift card for the equivalent amount should the winner be international.)  To enter, tell me your favorite Avenger and what it is about them that appeals to you.
Good luck and Happy Halloween!  And be sure to click through to all the other participants on the hop!