Bio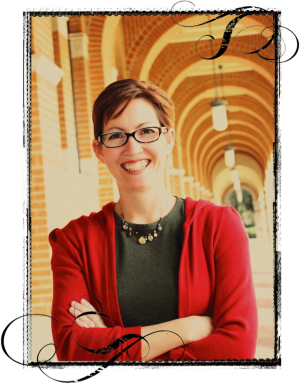 The lowdown:
I currently live between Houston and Galveston with my husband, two sons, and our adventure dogs, Indiana Jones and Short Round.  I do my writing with an ice-cold can of Dr. Pepper and, when I'm feeling spicy, a handful of Hot Tamales.  I don't want to brag, but I was the inspiration for a flash mob, so who knows what's next!
The highlights:
1980-something Voraciously whipped through every Mary Stewart and Victoria Holt novel I could get my hands on.
1990 Read Pride and Prejudice for the first time in high school British Lit.
1992 Re-read P&P for British Lit at UT Austin, wrote a spot of literary criticism.
1994 Graduated from UT Austin with an electrical engineering degree, married my best friend!
2000 Became a mom and moved from Austin to Houston.  During afternoon naptime, started writing what would become my first novel.
2002 Welcomed baby number two, another boy, and officially became a Boy Mom.
2004 Self-published my Regency historical romance, Unladylike Pursuits, started on the manuscript that would become Austentatious.
2007 Edited, over and over, ad nauseum.
2009 Signed with Rebecca Strauss of DeFiore and Company!
2010 Contracted by Kensington in a two-book deal, the first, Austentatious, to be published in February 2012, the second, Austensibly Ordinary, to be published January 2013.
2013  Published an article on Jane Austen's status as a cult maven in Romance Writers of America's Romance Writers Report.
2015  Contracted by Entangled for my magical contemporary romance, Just Say Yes, to be published August 2015.
Loves:
haikus, Anthropologie, live oaks, Hitchcock films, soda fountains, juicy color, tea cups, chips & salsa, pretty, sparkly things, rooftop gardens, fairy lights, little splurges, books, quilts, journals, juicy color, pick-your-own produce & lemon meringue pie
Find Me…
Email: alyssa@alyssagoodnight.com
Facebook: www.facebook.com/AlyssaGoodnight
Twitter: www.twitter.com/a_goodnight
Goodreads: www.goodreads.com/alyssagoodnight
Pinterest: www.pinterest.com/alyssagoodnight
Instagram: instagram.com/agoodnight