Half Baked Harvest Cookbook ~ BRC
It's been awhile.  Three months of summer hiatus and then September missed because of the craziness going on post-Hurricane Harvey. My boys had been back to school for a week when it hit and were subsequently out of school for TWO FULL WEEKS.  They were more than ready to go back after that (and I was more ready than they were.)  But I'm back, reviewing a cookbook, which is totally new for me.  For this one, I'm willing to make an exception.
Click icon for more
book review blogs
@Barrie Summy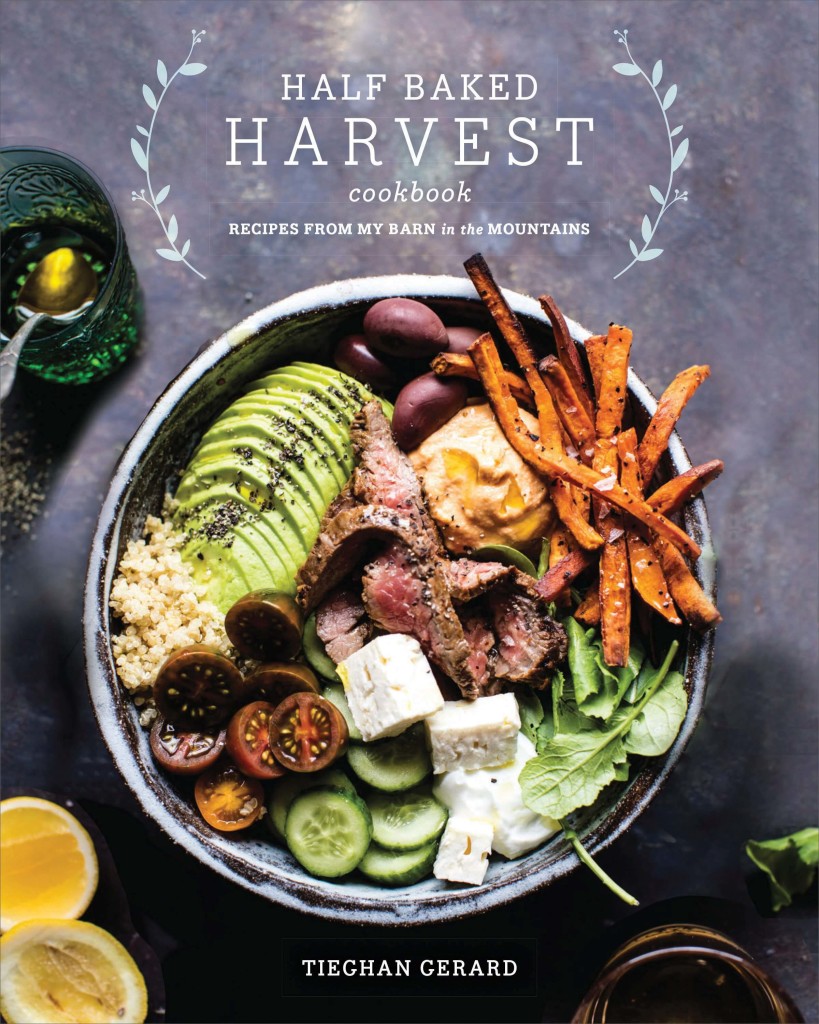 The book: Half Baked Harvest Cookbook by Tieghan Gerard
From Amazon:  Whether you need to get dinner on the table for your family tonight or are planning your next get-together with friends, Half Baked Harvest Cookbook has your new favorite recipe.
Tieghan Gerard grew up in the Colorado mountains as one of seven children. When her dad took too long to make dinner every night, she started doing the cooking—at age 15. Ever-determined to reign in the chaos of her big family, Tieghan found her place in the kitchen. She had a knack for creating unique dishes, which led her to launch her blog, Half Baked Harvest. Since then, millions of people have fallen in love with her fresh take on comfort food, stunning photography, and charming life in the mountains.
 
While it might be a trek to get to Tieghan's barn-turned-test kitchen, her creativity shines here: dress up that cheese board with a real honey comb; decorate a standard salad with spicy, crispy sweet potato fries; serve stir fry over forbidden black rice; give French Onion Soup an Irish kick with Guinness and soda bread; bake a secret ingredient into your apple pie (hint: it's molasses). And a striking photograph accompanies every recipe, making Half Baked Harvest Cookbook a feast your eyes, too.
My review:  I don't own very many cookbooks, and my meal repertoire is pretty limited.  (I've got some seriously picky eaters at my house.)  I can't quite remember how I came across the Half Baked Harvest blog–perhaps searching for a recipe for hula pork–but I have been hooked ever since.  I've made several recipes from her blog and have been delighted by almost every one.  (Springtime Chicken Pho, Sweet Corn Slaw, Korean Pineapple Pork Lettuce Wraps, Hawaiian Hula Pork Fajitas…)  I follow her recipes on Instagram and am always struck by how yummy they look.  Snapping up her first cookbook was a no brainer.
I have read two cookbooks in my life–this is the second one.  Tieghan has a charming way of injecting enthusiasm into every. single. recipe.  I seriously want to make virtually everything in this cookbook.  There are four reasons for this.
 All of these recipes look and sound scrumptious–her photography is beautiful.
 These recipes are LAYERED with flavors.  Most include a list of toppings or garnishes that you can choose to add or skip per your tastes.  But despite this, these recipes do not have a ridiculous list of ingredients.  Mobilizing 43 ingredients for one recipe is not in my wheelhouse.  I'm more of a 5-10 ingredient girl.  This cookbook is pushing my limits, but in a GOOD way.
The beauty of Half Baked Harvest Cookbook is that Tieghan Gerard is able to come up with new and inventive ways to jazz up old favorites.  Things you may not have paired together (salad, topped with sweet potato fries, for example) seem suddenly to make complete sense.
 This cookbook is not afraid of sugar.  Or butter.  Or full fat coconut milk.  But its focus is on eating healthy (at least most of the time.)
Let me tell you, I've been struggling to find a go-to recipe for homemade mac and cheese. (Being gluten free, it's homemade or nothin'.)  I made The Cheese-maker's Mac & Cheese from the Half Baked Harvest Cookbook (skipping the Ritz cracker topping and subbing out the smoked Gouda), and we all thought this version was delicious.  Next up, I'm making the Super Breakfast Mango Lassi and I. CANNOT. WAIT.  The kitchen is my oyster!
Seriously, if you're looking for some fun, inventive, not-too-involved recipes, give this cookbook a try.  (Or experiment with a few gems from her blog first.)  I suspect you will be a total convert.
FCC: I purchased this book, and I couldn't be happier with my decision.