A Study in Scarlet Women ~ BRC
I've only read a single Sherlock Holmes novel, and it was while I was in high school.  The Hound of the Baskervilles was required reading, and I enjoyed it (can't say the same about Moby Dick).  So, while I am a fan of the CBS series Elementary, the BBC series Sherlock, and the Robert Downey Jr./Jude Law movies, I haven't read any of Sir Arthur Conan Doyle's other works.  Thus, when I picked up Sherry Thomas' latest, a historical mystery entitled A Study in Scarlet Women, I wasn't aware that the title was a clever play on a Conan Doyle serial, A Study in Scarlet–or that the story was modeled loosely on the original.  I chose it because I'm a fan of Holmes and Watson fan–in all their many incarnations–and because Sherry Thomas is a really excellent writer.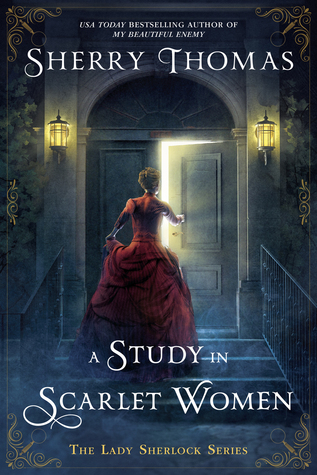 From Amazon:
With her inquisitive mind, Charlotte Holmes has never felt comfortable with the demureness expected of the fairer sex in upper class society. But even she never thought that she would become a social pariah, an outcast fending for herself on the mean streets of London.
 
When the city is struck by a trio of unexpected deaths and suspicion falls on her sister and her father, Charlotte is desperate to find the true culprits and clear the family name. She'll have help from friends new and old—a kind-hearted widow, a police inspector, and a man who has long loved her.
But in the end, it will be up to Charlotte, under the assumed name Sherlock Holmes, to challenge society's expectations and match wits against an unseen mastermind.
Charlotte has many traditional Holmes characteristics (not counting her penchant for keeping track of how much plum cake translates to an extra chin), but she is, as expected, not blessed with the freedom subscribed to the original Holmes.  She makes a deal with her father that if she's not found someone she wishes to marry by the time she's twenty-five, he will fund her education, which she's hoping to parlay into a position as headmistress of a girls school.
It comes as no surprise to anyone–except Charlotte–that he reneges on their agreement.  In retaliation, she decides to ruin herself and thus avoid a marriage she doesn't want.  As expected, she is quite thoroughly successful.  This one decision is the impetus for the drastic turn in her fortunes:  Charlotte leaves home, and the woman responsible for spreading her ruin throughout society is found murdered, with both her father and sister considered prime suspects.  But Charlotte, having carefully studied Debrett's Peerage and Baronetage (a Who's Who of Britain's aristocracy), has connected this murder to two other recent murders, prompting her to send a letter (penned as Sherlock Holmes) to the coroner.  Suddenly, London is agog with curiosity–who is this Sherlock Holmes and what does he know?–but Charlotte is running out of funds and getting desperate.
A somewhat anonymous benefactor and a new patroness are her saving grace.  While consulting on the case of the three murders, Charlotte takes in clients needing help with little mysteries, all while pretending to be the sister of the mysterious Sherlock Holmes.  As can be expected, all the mysteries get neatly tied up, and Charlotte is left in prime position to embark on a new life, which will continue on in future Lady Sherlock books.
Without giving anything away, I will tell you that I thought Ms. Thomas did an impressive job of tying this story back to the original Sherlock Holmes stories.  It's ingenious really.  So clever.  Make no mistake: this book is its own story–completely unique and fresh–but with the built in appeal of a much beloved classic character (different as she may be).  The only stumbling block for me was the heavy dose of information right at the beginning.  Within the first few pages, three or four storylines were introduced with various characters, and I had a bit of trouble keeping them all straight.  I did have to go back and re-read a few sections over again, but that is a minor detail for an otherwise stellar start to a series I'm very much looking forward to continuing.
Attention FCC: I bought this book, and now it's a keeper!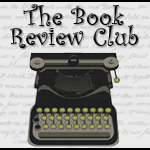 Click icon for more
book review blogs
@Barrie Summy