The Update
So…it's been a while. You may be wondering, what's up with me. Here's an encapsulation:
Admiring my mention in the April 8th, 2013 edition of FIRST for Women!  AUSTENSIBLY ORDINARY is listed in the feature,
"The 6 Paperbacks We're Reading Now."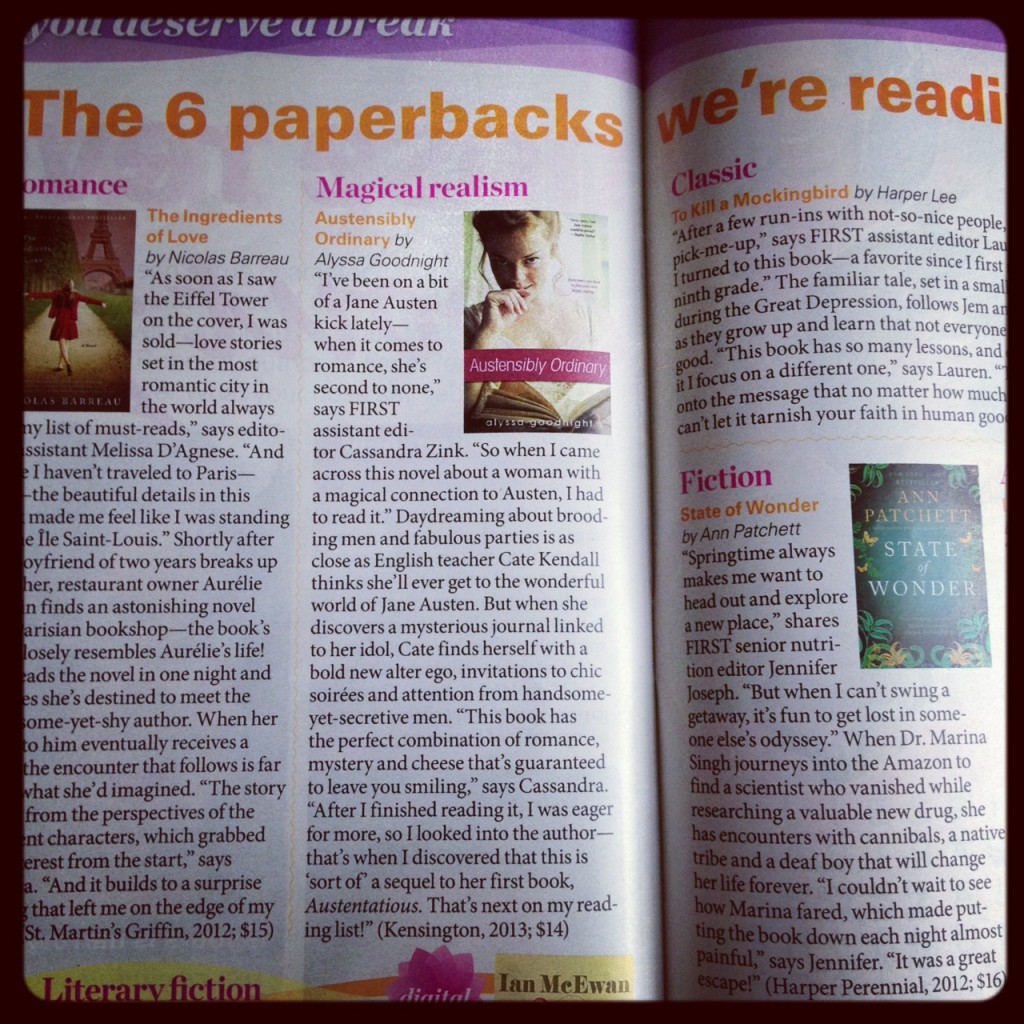 Participating in Julie Valerie's Chick Lit Chat for Grilled Cheese Month (April 15th)
Watching The Lizzie Bennet Diaries (an online adaptation of Pride & Prejudice). I'm only on Episode 25, but I'm so enjoying it. Misty at The Book Rat recently posted this AWESOME video mash-up of TLBD and Beauty and the Beast (the songs are by far the best part). Even if you haven't been watching The Lizzie Bennet Diaries, you'll enjoy it. But you should be watching The Lizzie Bennet Diaries!!
Eating fish tacos almost every Monday.  My special treat until school is out…
Watching Mr. Selfridge on Masterpiece PBS, a new mini series by Andrew Davies (creator of the 1995 BBC P&P)
Reading Nightingale Wood by Stella Gibson.  Published in 1938, parts of it are reminding me of P&P.
Waiting for His Majesty's Hope by Susan Elia MacNeal to come out!!
Looking forward to summer swimming, homemade ice cream, and vacations!
Making Philly Cheesesteak Stuffed Peppers and South American Flank Steak…yummers!
Drinking iced chai tea with vanilla soy milk instead of Dr Pepper.
Trying to decide what to make with the bag of Meyer lemons I bought last week.
Planing a family kickball night, wishing for a girls trip…
Writing, writing, writing!