Pride and Prejudice Anniversary Party Blog Hop
*** My Anniversary post is here***
————————————————-
A BIG anniversary is coming up, in the not-so-distant future.  And it's not mine (although, at the end of December I celebrated 18 awesome years of marriage)!
On January 28th, 2013, it will be the 200th anniversary of the original publication date of Pride and Prejudice!  Hard to believe, isn't it?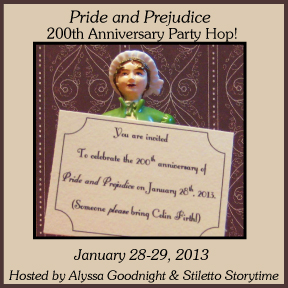 Certainly there are older classics, but are there older classics that are not only still being read, but still inspiring an insane amount of fan fiction, not to mention screenplays?  Are there older classics that have a Bollywood version or an online diary?  Older classics with the allure of Mr. Darcy and the face of Colin Firth?
I think not.
So I would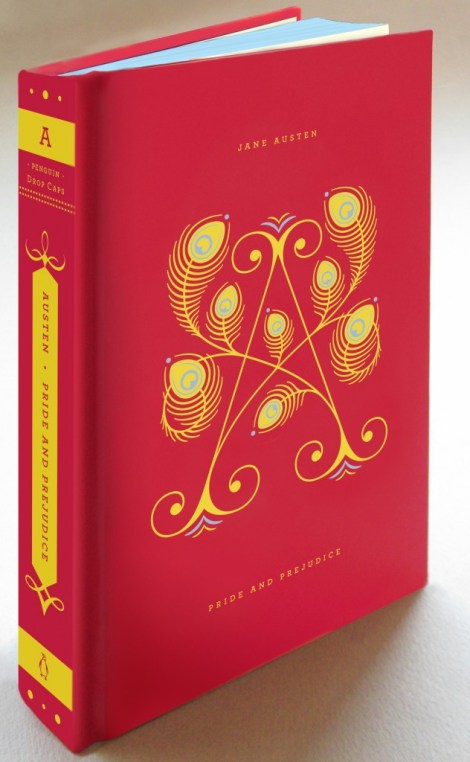 like to do something special.  To make this anniversary Austentatious, if you will.  Because this anniversary is special to me for a secondary reason as well.  I have a Jane Austen-inspired book coming out the very next day!
If you've read Austentatious, you know that it's not intended as a retelling, or spin-off, but simply an homage.  Having a magical journal that channels the literary darling–the patron saint of happily-ever-afters–nearly two hundred years after her death lets us believe for a few happy moments that she's not quite finished with match-making.  That makes me very happy indeed.
Austensibly Ordinary (another homage with some bits and pieces of Emma thrown in) will be released on January 29th, 2013, and although it's only a sequel to Austentatious in the most l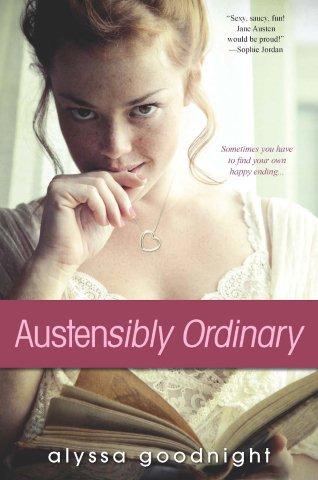 imited way, the magical journal ties the two books together.  So, in a sense, Jane is back!  Just in time for our little anniversary party!
So let's get down to details.  I would like–I would very graciously appreciate–your help.  I've enlisted the help of Courtney Webb of Stiletto Storytime.  She and I are co-hosting the Pride and Prejudice 200th Anniversary Party Blog Hop!
My intention–my hope–is to get 200 people to join the party and celebrate Pride and Prejudice.  Maybe that's crazy, but I'm optimistic!!  If you have a blog, post about your first time reading the novel, your first time seeing the 1995 A&E/BBC production, your love of Colin Firth as Fitzwilliam Darcy, your obsession with the spin-offs, or the little birthday party you throw Jane every year.  Let this be your fan letter to Jane.  Enjoy your time remembering…or revisiting.  If you don't have a blog, post your fan letter in the comments–it's all good!
If you'd like to participate (and why wouldn't you??), please sign-up with the Linky below, grab the button above, and plan to post your fan letter on the big day: Monday, January 28th, 2013.  I am going to give away the gorgeous Penguin Drop Caps edition of Pride and Prejudice to one participant.  Your post or comment is your entry.  Feel free to add to the fun with a giveaway of your own!
Please encourage others to join us.  I think this will be a blast! I'll post the winner of my giveaway on the 29th.
If you want to add the list of participating bloggers in your post, the code is below:
<link rel="stylesheet" type="text/css" media="all" href="http://www.blenza.com/linkies/styles/default.css" /><script src="http://www.blenza.com/linkies/loc_en.js"></script><script src="http://www.blenza.com/linkies/opt_defaults.js"></script><script src="http://www.blenza.com/linkies/misterlinky.js"></script><script type="text/javascript" src="http://www.blenza.com/linkies/autolink.php?mode=standard&owner=alyssag&postid=post3158"></script>
On a side note, there are three copies of Austensibly Ordinary up for grabs on Goodreads. If you're interested.