AUSTENSIBLY ORDINARY is out TODAY!
Yep, today's the day. Yay!  And below is my attempt to share a Wordle I created for the book.  (Couldn't do better than a screen shot…)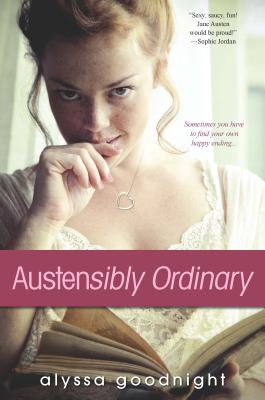 I've had some really great bloggers review Austensibly Ordinary and say nice things.  Here are some of my favorites:
"You'll love getting tangled up in this delicious novel."

— SheKnows.com Read the entire review!
"From the author ofAustentatious comes a charming and inventive new novel in which a magic journal imbued with the spirit of Jane Austen ensures the path of true love runs a little more smoothly."

— USA Today Happy Ever After blog
"An utter delight from start to finish… I deem Austensibly Ordinary to be a delightful romance, with Austen-y goodness and a bit of fantastical silliness."

 — A Reader of Fictions Read the entire review!
"A fun mash-up of elements, and a fantastically fun voice. And the healthy dose of supah-sexah doesn't hurt, either… Highly recommended for fans of Austen adaptations, fun contemporary romance, or those in need of a good funk-breaker book.

— The Book Rat Read the entire review!
"Alyssa Goodnight has a light-hearted grasp of human nature that is akin to Jane Austen, and she is easily adept at sharing the hearts of her characters. Reading one of her books is up-lifting. It makes you smile!"

— A Bookish Librarian Read the entire review!
If you read it, let me know what you think!