Jane Austen Giveaway Hop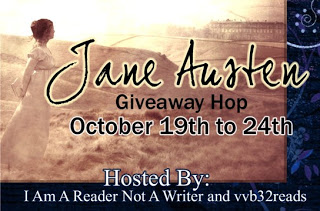 Hello!
Welcome to my stop on the Jane Austen Giveaway Hop!  I am excited to participate and am giving away a copy of my Jane Austen-inspired novel AUSTENTATIOUS.  Here's a quick blurb:
While browsing in an Austin shop, Nicola James finds a blank vintage journal hidden among a set of Jane Austen novels. Even though Nic is a straight-laced engineer, she's still a sucker for anything Austen-esque. But her enthusiasm turns to disbelief once she starts writing in the journal – because somehow, it's writing her back…Itching for a bit of excitement, Nic decides to follow her "Fairy Jane's" advice. The result: a red-hot romance with a sexy Scottish musician who charms his way into Nic's heart in about five seconds flat. But a guy like Sean doesn't exactly fit into her Life Plan. With no one but Fairy Jane to guide her, Nic must choose between the life she thought she wanted – and the kind of happy ending she never saw coming…
I love the idea of Jane showing up (in spirit) in Austin, TX to offer unsolicited romantic advice to modern day women.  And the novel has been well-received by readers and reviewers alike…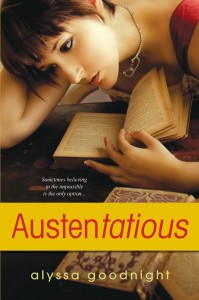 "Goodnight's breezy style with a believable heroine, lively conflicts and lots of best-friend confidences elevates this above the usual chick lit fare." ~ Publishers Weekly
"This humorous romance will appeal to all Austen fans while bringing a fresh twist with its magic journal." ~ Booklist
"Janeites and chick lit fans alike will enjoy this wonderful romp into modern day romance with the ideal Miss Matchmaker from the past leading the way." ~ Courtney Webb for New York Journal of Books
AUSTENTATIOUS has been out since January, and its sort-of sequel, AUSTENSIBLY ORDINARY, will be out January 29, 2013, two hundred years and ONE DAY after the original publication of Pride and Prejudice!!  I am giving away a copy of AUSTENTATIOUS, and Stiletto Storytime is giving away an ARC of AUSTENSIBLY ORDINARY, so don't forget to stop by there as well!
To enter my giveaway, you simply have to become a follower on Twitter.  I am a_goodnight.
If you'd like a few additional entries,  you could:
1.  Add AUSTENSIBLY ORDINARY to your TBR list on Goodreads  (There's a giveaway going on over at Goodreads as well!)
2. Post my countdown timer on your blog (click 'Get Widget' on the timer)
3. Tweet this giveaway:  "I want to win a copy of AUSTENTATIOUS by @a_goodnight in the Jane Austen Giveaway Hop! #janeausten"
Good luck, and have fun hopping!