My Go-To Gluten Free List
In recent weeks, several friends and family members have sought my advice on gluten free favorites.  So…I thought I'd post my list here in case anyone reading this blog is just getting started on a gluten-free diet, or an old-pro with recommendations of their own to share.
The two biggest difficulties involved in being on a gluten free diet are the lack of convenience and the increased price.  Basically, almost all readily available cereals, noodles, crackers, breads, cookies, rolls, etc are made with gluten.  Of course there are other ways to make them, but that's not happening in jumbo factories, so the prices are higher, and those products are less readily available.  Similarly, most restaurants don't have a very extensive gluten free menu.  You can probably get salad (hold the croutons, and maybe the dressing), and maybe grilled meat and selected side dishes.  Maybe.  Hence, the convenience problem.
My family is a little different than most people who get diagnosed with celiac disease: we don't have any outward symptoms.  No stomach distress, no nausea, etc.  So we can't really tell if something is entirely gluten free, unless we see the label.  We're just hoping for the best.  That said, some of the restaurants we frequent, with significant gluten-free menus are:
Jason's Deli
Chipotle/Taco Cabana/Freebirds
Five Guys (we bring our own buns)
Pei-Wei
Rudy's Country Store & BBQ
BJ's Restaurant and Brewhouse
We eat a lot of Mexican food, because corn tortillas are the base of many meals and are generally, I believe, gluten free.
For at-home baking, all my flours come from Bob's Red Mill. The baking mix I mostly use contains white rice flour, tapioca flour, and potato starch (flour) and is from Silvana Nardone from easyeats.com. I've had pretty good luck with it. Plus, there are LOTS of recipes at that website, which is an online gluten-free recipe magazine and blog.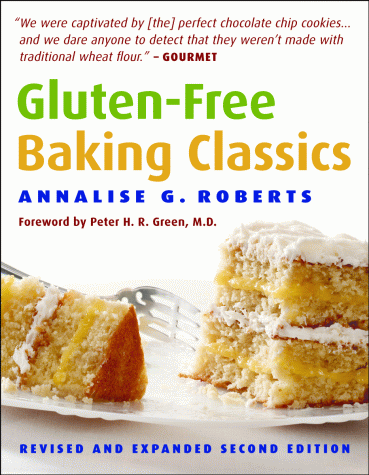 For homemade baked goods, I've been very impressed with Gluten Free Baking Classics by Annalise Roberts–we've pretty much liked everythin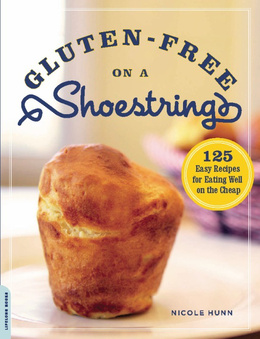 g I've made.  Her baking mix is  a slightly different mix of those same flours I mention above, but I suspect either would work fine.  My latest cookbook find is Gluten Free on a Shoestring by Nicole Hunn.  She's on Pinterest as well, so I've been pinning gluten free recipes like crazy!
I get several things via the "Subscribe and Save" feature on Amazon, which gives you a discount for buying in bulk.  The downside: you have to have somewhere to store all that food.
Here's a short list of stuff we like:
Udi's hamburger and hotdog buns
Bob's Red Mill Homemade Wonderful Bread Mix  (I think it's more delicious that wheat-based bread!)
Food That Tastes Good multigrain chips
Snyders of Hanover gluten free pretzels
Van's Gluten Free Waffles and French Toast Sticks
Tikiyada Brown Rice pasta and Quinoa Ancient Harvest pasta
Kinnikinnick pizza crusts
Wolfgang Puck soups
Lucy's cookies
Gluten-free Bisquick
Chex cereals (all but Wheat)
There is an iPhone app called 'Is That Gluten Free' that I use and a gluten-free grocery store guide, Cecelia's Marketplace, that has been invaluable to me at the grocery store.
If you are just now taking on a gluten-free diet, I hope this helps! If you've been on the diet for a while, please share you tips and favorites!