I Have A Dream…
Summer is now officially over, if you go by the school calendar, which I do.  Monday was the first day of school here, and I celebrated the peace and quiet with a lunch of fish tacos and Imperial Scandal by Tracy Grant.  Divine.
So now, it's back to work.  I made hardly any writing progress over the summer, but I'm much better organized than I was in early June, so perhaps the trade-off was worth it.  I'm working on a new series that involves a supper club, and that's all I want to say about it for now, since it's still in the brainstorming stages.  Write a little, brainstorm a little…  Obviously, these books will be a little ways off.
But!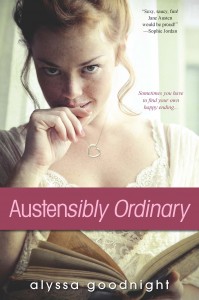 I do have a book coming out in January.  AUSTENSIBLY ORDINARY is finally up on Amazon (although no Kindle version yet) after being listed, for the longest time, as "Untitled 2" with no cover image, but having the correct release date: January 29, 2013.  It's also up on Goodreads, but no one has added it yet, and it's sooo lonely over there!  So, if you do plan to read it, or aren't above a pity add, please click over and add it to your reading list.  You'll have my undying gratitude.
I'm supposed to get galleys in late September, so I will be doing a giveaway on Goodreads (hoping to bump up my stats!) and probably one here too.
It's weird, but when I imagine my highest aspirations for this book, it's not what you might think.  Of course I would LOVE to have it hit the New York Times Bestseller List…or really any bestseller list.  I'd love to have it picked up by bookclubs all across the country, be mentioned in magazines, and touted by celebrities, but when I imagine that pinnacle moment, it's simple.
I picture Ellen DeGeneres dancing with a copy of my book on her show.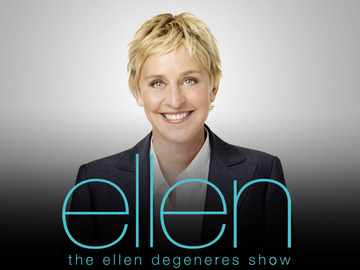 Picture it…
Awesome, huh?
And then…everyone in the audience goes home with a copy!
I only picture the book on the show, not me.  The latter, I can't even imagine.  It is far, far, far off the edges of my (occasionally) vivid imagination.  But I can see AUSTENSIBLY ORDINARY there, dancing.
Simple perfection.
So.  If you know anyone involved with The Ellen DeGeneres Show (the producer would be GREAT!), first of all, I'm flattered you're reading my blog.  Secondly, maybe you could put in a good word…   It's a really photogenic cover.  I'm not good enough with Photoshop, or I'd totally find a picture of Ellen and edit my book right in there.  Sounds like my husband has a project when he gets home…
I'll do the easy part.  I'm starting a bulletin board on Twitter, with the hashtag #EllenDancesWithAO (not the greatest choice in the world, but that's all I've got).  If you want to help pass the word, use the hashtag.  Maybe (just maybe) it'll trend, Ellen will see it, get inspired, and feel like dancing.
It could totally happen!
So get out there, and let's make this happen!