#DessertedReads
The brains behind this fun, summer Twitter-inspired idea is Jenny Martin.   She came up with the idea to pair the hashtag (a Twitter thing) #DessertedReads with a recipe and review.  The combo #DessertedReads, as I understood it, was intended to include an 'oldie but a goodie'…a book that you love but maybe is languishing, forgotten, on your bookshelves.  A book you'd like to highlight and recommend, paired with a dessert recipe to share.  I have been looking forward to posting my pair all week.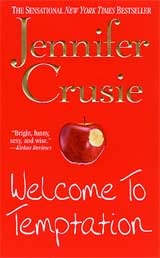 My book?  WELCOME TO TEMPTATION by Jennifer Crusie.  I remember buying this book.  I was in Target, just browsing, and I saw this bright red cover, with a glossy red apple on it.  An apple with a bite out of it!  It compelled me to pick it up.  I read the back blurb and was excited.  This was a book I was going to like.  And I did!  I loved it!  And after that I was a Jennifer Crusie Fan Girl, and I spent no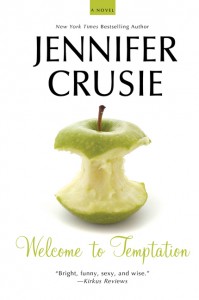 time in getting my hands on her other novels.  (And snatching up the new ones as they came out.)  Isn't it interesting how they switched to a mostly-eaten apple when the book was published in trade paperback?
There is something very distinctive about a Jenny Crusie book.  But it's hard to put your finger on it.  Something beyond the spunky heroines and their sexy co-stars.  I love the cohesiveness of her books, the quirky characters, the motifs, the sassy one-liners.  I love it all!  WELCOME TO TEMPTATION is your classic small town scenario: porn star comes home to shoot a movie, someone gets murdered, small town politics go awry, two seemingly mismatched individuals hook up, and everything goes to hell in a handbasket.  So go get yourself a Dove Bar (the main character's choice of decadent treat) and settle in for a really funny, really fun read.  And then go get all the rest of the Crusie books!
My recipe (for when you're done with the Dove Bar), which has nothing to do with WELCOME TO TEMPTATION beyond being quite the tempting dessert, is for Coconut Cake.  I love this cake.  It is both light enough for a summer party and sweet enough for a fancy affair.  I haven't had it since before discovering I have celiac disease, but I am confident that I will be able to 'convert' the recipe to be gluten free for my family.
So, here it is…
Coconut Cake
1 box white cake mix (and ingredients needed to make it)
1 can sweetened condensed milk
1 small can cream of coconut (look for it near the margarita mix)
1 medium or large container of Cool Whip
1 pkg shredded coconut
Prepare cake mix according to directions.  Cook in a 9″ x 13″ pan.  Mix together sweetened condensed milk and cream of coconut.  Pierce hot cake with a fork and pour coconut mixture over hot cake.  After cake is cool, "ice" with the Cool Whip.  Sprinkle top with coconut and pat in.  Store in the refrigerator.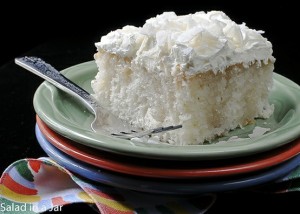 image via