Week at a Glance
Whew!  Last week was even crazier than normal.  As the PTA Literacy Chair for my younger son's school, it was my job to run the last Scholastic book fair of the year, and it was a LOT of work.  I was at the school almost every day from 7:45ish to 4:00.  Because who can resist a buy-one-get-one bookfair??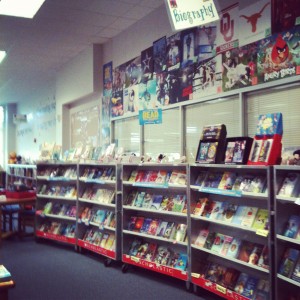 I took the day 'off' Wednesday to chaperone my son's 4th grade field trip to the San Jacinto monument.  The field trip consisted of treking around the fields where the Texans and the Mexicans made camp before the Battle of San Jacinto (quite the pivotal battle in Texas history, which I'd forgotten about…)  The kids then took the elevator up to the top of the monument, which I think is as tall as the Washington monument.  Going to go check that…  I'm back!  And it's actually taller by about 12 feet!  Anyways, there was the typical Texas heat, a dose of mosquitoes, and the disappointment (only mine) of not getting to go to the top of the monument.  But there were a gazillion baby frogs to catch, so the kids were in heaven!
Here's the photo I took from the bottom…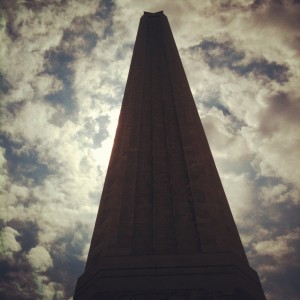 Then on Saturday, I drove up to Austin to participate in an Austen in Austin event at BookPeople with Jennifer Ziegler and Patrice Sarath.  We had a thirty minute panel discussion, led by a lovely moderator, and then a couple questions from the audience, and then a signing.  Plus, they had iced tea and scones and butter cookies galore.  I thought it went very well.  Plus, several old friends came out to see me, including a friend from my long-ago work days, who was the inspiration for Gabe in AUSTENTATIOUS.  It was great!  The BookPeople staff was wonderful.
This week, I'm back to the old routine, and I'm LOVING it!  Just having time to go to the grocery store without having to hurry back to the book fair is such a nice feeling.  Better still, I had lunch today at Berryhill, which I try to frequent on Mondays due to their scrumptious $1.99 grilled fish taco deal.  Today, I became a regular!  When I walked in, there was a line of about five people, and a regular server of mine walked up to me, told me she had me covered and that I could go sit down.  (Admittedly she subbed my favored Dr Pepper with Diet Coke, but she quickly remedied that.)  When she brought me the check, she said, "Have a great day, and see you next week!"  I thought that was all kinds of awesome!
This week:  Field Day.  It's expected to be about 90 degrees.  Awesome!