It. Is. Done.
This past weekend was the Avon Walk in Houston, and I am happy to report, that I survived.  We actually had a couple of almost perfect days.  Late April in Houston can be muggy and hot, but Saturday was breezy and chilly, turning lovely later in the day, and Sunday was a bit hotter, but nice.  Friday afternoon it POURED down rain, right through our check in at Event Eve and our 'carbing up' cupcake stop.  But by the time we made it to P.F. Chang's for dinner, it had cooled considerably, and the rain was gone.
We stayed at my MIL's townhouse in the city so we'd be closer to the starting point, and despite being oh-so-tired, I didn't fall asleep until after midnight.  Our alarms were set for 3:45 a.m. to give us time to drive to shuttle pickup, park, take the bus, and get to the Opening Ceremonies at 7:00 a.m.  It. Was. Freeeezing out there!  We shivered our rears off, standing in a wet field for over an hour before the ceremony started.  My feet were sore before we even began.
And then we were off.  And there were people all along the route out there, cheering us on, saying thank you.  Local bikers had signed up to help us with traffic, and they were at every busy intersection, always with a smile.  Then there were the Porta-potties.  But I survived those too.  The second day I tracked my progress with the number of Porta-potty stops I had left.  It was thrilling when I had none left, even though I was still three miles from the finish.
A couple of my walking buddies went off the beaten trail for another cupcake run.  They got me one too, and I enjoyed it thoroughly at Mile 26.2, while sitting in a massage chair, my feet propped up on a massage machine.  It was actually a really lovely walk–mostly.  We got to see A LOT of Houston.  A whole lot.
The stairs at my MIL's were rough on the evening of the first day (I was sleeping on the third floor).  But once I was warmed up, I wasn't overly sore for the second day's walk.  And today I'm not too bad.  Better than expected.  I'm just glad it's over.  New nicknames were used on that walk, and I hope they don't stick…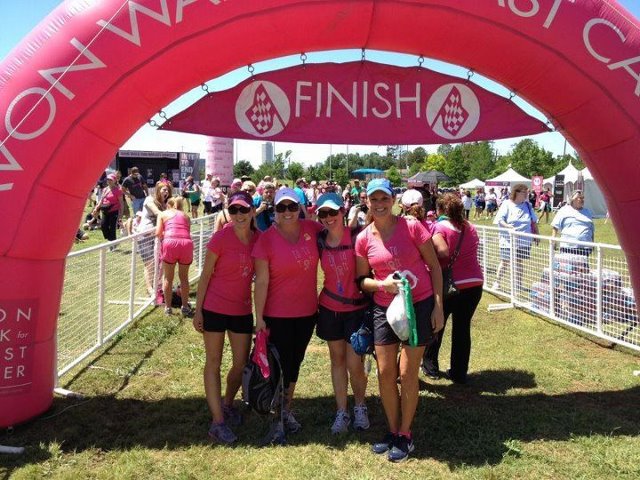 Houston raised $2 million for breast cancer research and care.  And I was part of it.
Posted in
life
on 04/23/2012 04:55 pm