Keeping you up to date…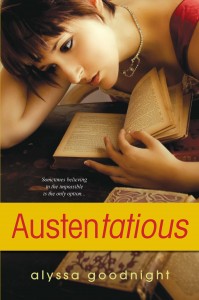 FYI…there's a copy of AUSTENTATIOUS up for grabs, as well as an interview with the hero of the story, Sean MacInnes, on Seeing Night Reviews.
Go enter!  (Or if you already have a copy, go see what Sean has to say… )
And there's a great new review from Jakki Leatherberry at Mary Simonsen's Austen Inspired Fan Fiction Blog.
"Austentatious! What a fun, hot novel! I was swept up in a whirlwind of kooky advice, humorous characters and steamy romance."
And, if you're in the Houston area (or somewhere in the state of Texas and looking for a reason to take a roadtrip), I'll be signing copies of AUSTENTATIOUS, along with fellow Austenesque authors, Jennifer Zieger, who will be signing  SASS AND SERENDIPITY, and Patrice Sarath, who will be signing THE UNEXPECTED MISS BENNET, at the Town and Country Village Barnes and Noble this Saturday at 2:00pm.  There will be scones, so come one, come all!!
I will be back here Wednesday for Barrie Summy's Book Review Club.