The Story of a Cupcake Redneck
If you've read AUSTENTATIOUS, you know about the cupcakes.  If you haven't read it, I will tell you that the main character is a bit of a cupcake gourmet…although she'll take a plain Jane cupcake in pinch (wouldn't we all).  So, when planning the AUSTENTATIOUS Launch Party, the one thing I knew for sure was that there had to be cupcakes.
Well, there is this absolutely amazing new cupcake shop right down the street from where I decided to hold the launch, and if I'd been celebrating AUSTENTATIOUS hitting the New York Times Bestsellers List or the  AUSTENTATIOUS Hollywood premiere, I could probably have overlooked the $2.75 a cupcake price.  But I wasn't, and I couldn't, so my next plan was get cupcakes from Target.  Before you judge…consider whether you've ever had a Target cupcake before.  Because they are freakin' delicious.  Even if you're not a fan of the sugar-sweet lard frosting (I totally am!), the vanilla cupcakes in particular are simply lovely: moist, light, and delicious.  But I got told, in slightly couched terms, that I'm a cupcake redneck, and that I'm the only one of my friends who likes Target cupcakes, the frosting in particular.  (It was said very nicely and meant to be helpful.  And honestly, I could only pity those poor friends who couldn't enjoy the old-fashioned wedding cake style of a Target cupcake.)
I protested that the cake part of the cupcake was still delicious, and so a very good friend of mine (an admitted frosting snob) offered to frost some topless Target cupcakes–around a hundred–with a team of sweetheart volunteers.  We had vanilla buttercream and strawberry buttercream and mint chocolate ganache (made by me), and it was perfect.  We had soooo many compliments on the cupcakes and soooo many people asking who'd made them because they wanted to order some for their own parties.  Now you know the secret to 5 Ladies Bakery, half of which, is Target.  The most raved over by far, was the strawberry buttercream, and I'm including the recipe below.  Enjoy!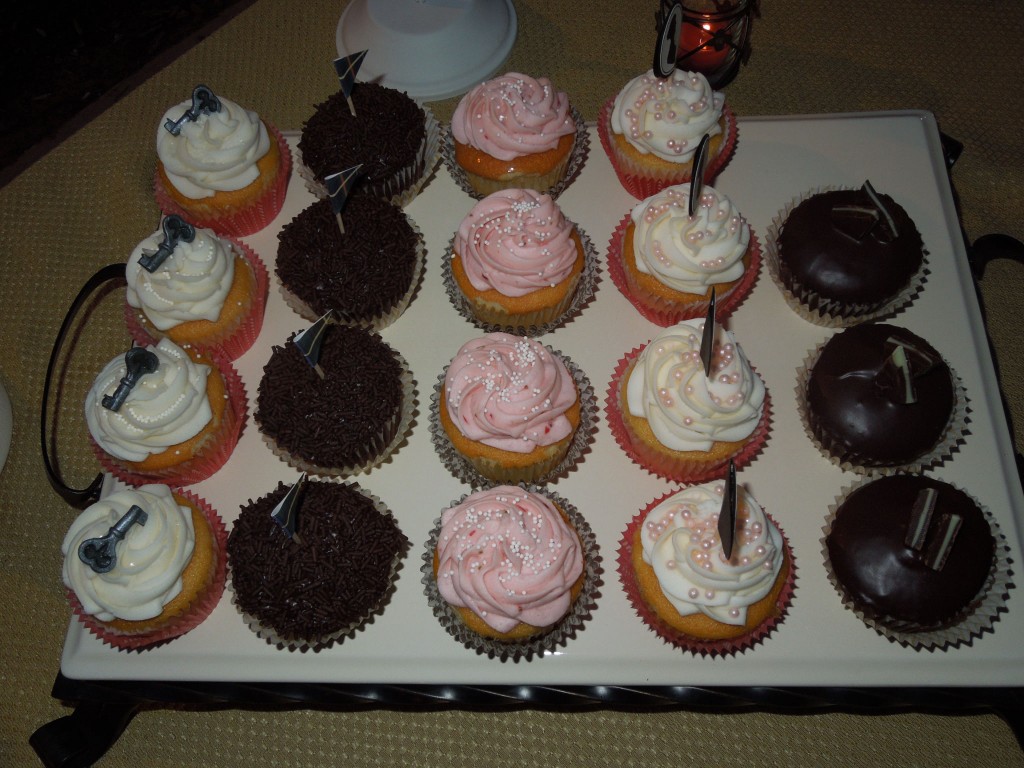 • 1/2 cup butter, softened
• 1 (16 oz) package powdered sugar
• 1/2 cup of fresh strawberries, chopped, additional strawberries to garnish
Beat the first 3 frosting ingredients at medium speed with an electric mixer until creamy. Gradually add powdered sugar alternately with strawberries, beating at low speed until blended and smooth after each addition. Spread on cooled cupcakes.
I'll also tell you that some of the cupcake inspiration for the book came from this website: cupcakeblog.com
Your homework?  Visit a Target with a bakery, grab a six pack of vanilla cupcakes with sweet-lard frosting and give 'em a try.  Then come back here and let me know what you think.