Whirling Dervish
Much has been going on since last I posted here about anything other than AUSTENTATIOUS.
But first, I must share my book news:  AUSTENTATIOUS was featured alongside new releases from Mary Balogh, Lisa Kleypas, Sarah MacLean, and Rachel Herron (!!) in Women's World under the header, "You deserve the best…New romance novel!"  I am thrilled!!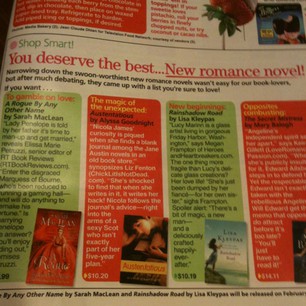 Next up, because it's taking up the next biggest chunk of my time: I've decided to participate in the Avon Walk for Breast Cancer this year.  One of my best friends from high school was recently diagnosed and went through treatment, and I will be walking as a tribute to her.  It's 26 miles the first day and 13 miles the second on April 21.  So far my longest walk has been 8.5 miles, and I have to say that this training is highlighting every foot frailty a person could possibly have.  Well, that I have.  I'm actually a little worried about making it the full distance.  One day it's blisters, the next it's the bones on top of my feet.  Something's gotta give!
I chipped a tooth on a gluten-free pretzel and, as a result, I needed to get a new crown put in my mouth.  Huzzah!
With LOTS of  help from my friends, I hosted an AUSTENTATIOUS Launch Party!  It was extraordinarily chilly, which isn't overly surprising given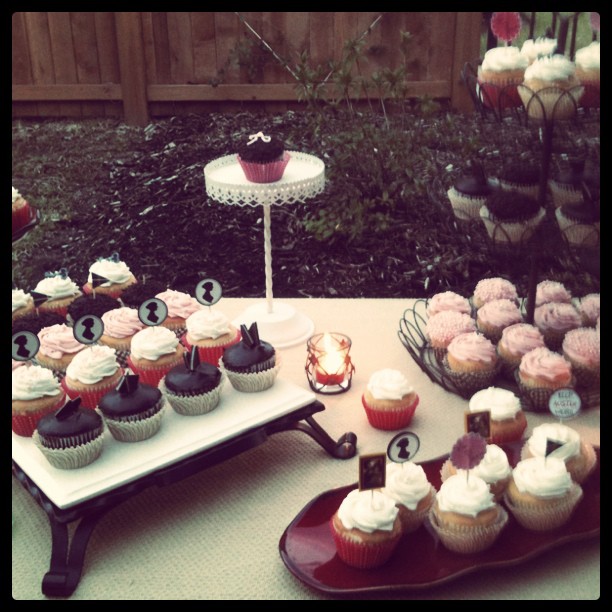 that it was held on the outdoor patio of a local Dunn Bros. Coffee Shop, but Texas weather is pretty fickle.  We didn't know what we were gonna get.  I had a great turnout.  There was a reading (ugh!), some divine cupcakes, some party games, and the mustaches on sticks I had to have.  I will be posting pictures as soon as I get them from my designated photographers.  Here's one I snapped with my phone…
I started an inspiration board for Book 3 (with Kensington) on Pinterest, and I'm loving adding new pins.  I'm 50 pages in on this book and just now starting to find my rhythm.
I managed to only read a single book in about a month's time.  It was The Tower, the Zoo, and the Tortoise by Julia Stewart.  I enjoyed it, but it felt more like a series of hilarious character sketches instead of a cohesive story.  Next up?  Sass & Serendipity by Jennifer Ziegler, who I will be signing with (along with Patrice Sarath) at the Town and Country B&N in Houston on March 10th, 2:00pm.  Should you be in the area, I'd love to see you!
Okay, I think that's about it for now.  What have you been up to?