New & Noteworthy
I am giddy with excitement over some of the reviews AUSTENTATIOUS is getting. 
From Lisa and Laura Roecker:  "If AUSTENTATIOUS were a movie, Hugh Grant* would play Sean. Enough said.   *Hugh Grant circa Notting Hill and Love Actually"
From Kat at Musings of a Book Lover:   "I don't think I have laughed out loud with any book as much as I did with Austentatious!"
From Toni at Books Read 'N' Makeup Done:  "Ms. Goodnight has reignited my love of Jane Austen and I couldn't be happier."
YAY!  And 5 copies are up for grabs on Goodreads…so go enter!
Basically I'm swamped with all the stuff involved in trying to promote AUSTENTATIOUS, but a few interesting things have happened…
Last Sunday, the homily at church revolved around a discussion of apprentices.  At one point, I leaned over to my husband and said, "I consider you my apprentice."  I was only partly teasing.  He turned to look at me, and without cracking a smile, said, "I consider you my apprentice."  For some reason, this strikes me as absolutely hilarious.  It totally sums up the sort of relationship we have.  I think he's the work-in-progress, and he thinks the same of me.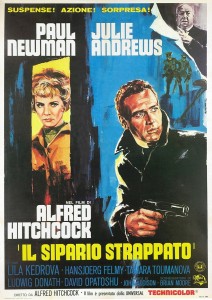 I watched Notorious.  I don't know if I was sleepy or the volume was too low on the TV, or what, but I had a lot of trouble understanding both Ingrid and Cary!  I enjoyed it, but it definitely wasn't one of my favorites.  I couldn't really sympathize with the characters, at least until she was lying sick and poisoned there at the end.  But the cinamatography was classic–beautiful!  On to the next Hitchcock…I think Torn Curtain.  That movie poster puts me in mind of a Nancy Drew (is it the colors?)
I visited a (somewhat) local independent bookstore on Tuesday that I'd never been in before.  I'd sent them an galley of AUSTENTATIOUS several months back at their request, and my intention was to go in and introduce myself.  The lady working the cash register told me that she was certain they'd received it (which I already knew), and that it was on a shelf somewhere waiting to be read, or it was being read by one of their staff.  O-kaay.  She asked if it was a young adult book, and I told her it was women's fiction.  Her response: "Oh."  Then she asked if I only wrote adult books.  I said, "So far."  She replied: "Well, YA is where it's at!"  Seeing as their tiny bookstore was a mix of pretty much everything, from picture books to cookbooks, I couldn't understand her obsession with YA.  Clearly I am not an author to watch, in her opinion.
On a side note, I finally checked out a library book on my Kindle!  I'm so excited!  Now if I just had a chance to read…
What's up with you?