Makin' Plans
Okay, so I'm not generally too big on new year's resolutions (I'm not sure I accomplished any of the ones on my list for last year…), but I have already come up with two for this year, and I plan on stickin' to 'em.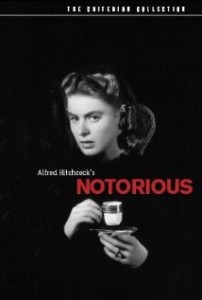 Resolution Number 1: Watch a portion of the Alfred Hitchcock movies that I've not seen. (Originally my resolution was to watch ALL the ones I haven't yet seen, but now that I've looked at the list, I'm not sure I can pull that off.)  I am a HUGE Hitchcock fan–HUGE! But I've discovered, in chatting about his movies, that there are fewer I've seen than not seen. A few of my favorites:  Rear Window, North by Northwest, To Catch a Thief, Dial M for Murder (see a pattern?  they all feature either Cary Grant or Grace Kelly.) I feel like this needs to be remedied…stat. So, on my list to get started are the following:
(blurbs via imdb.com)
Torn Curtain, starring Paul Newman and Julie Andrews:  "An American scientist publicly defects to East Germany as part of a cloak and dagger mission to find the solution for a formula resin and then figuring out a plan to escape back to the West." 
Notorious, starring Cary Grant (!) and Ingrid Bergman: "A woman is asked to spy on a group of Nazi friends in South America. How far will she have to go to ingratiate herself with them?"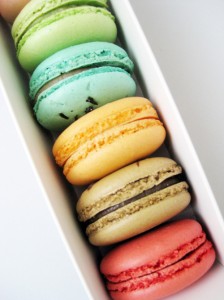 Foreign Coorespondent, starring Joel McCrea and Laraine Day: "On the eve of WW2, a young American reporter tries to expose enemy agents in London."
Resolution Number 2: Taste French macarons. Not coconut macaroons–I've had those. Love 'em. The garishly colorful little French sandwich cookies made out of almond flour. Just look at those colors! I can't resist.
And that's pretty much it. Give me a box of these cheerful little cookies and pop in a dark, murderous story on DVD, and my year is made! What about you? What do you plan to tackle this year?