Happy Birthday Jane!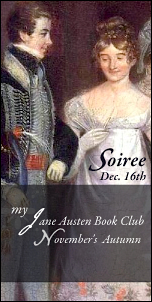 Today, I am celebrating the 236th birthday of literary darling–the incomparable, Jane Austen!  In an effort to really party as befits a lady of her age and legendary reputation, I am participating in a Birthday Soiree, hosted by the lovely Maria Grazia of My Jane Austen Book Club and (also lovely) Katherine Cox at November's Autumn.  I am joined by an awesome collection of Austen devotees (listed below).  And the really good part is that each of us will be giving away two gifts.  One…imaginatively…to Jane herself, and one to a lucky winner.  Be sure to visit all the participating blogs and read all the details regarding their giveaways for a chance to win.  So read on…and best of luck!  Enjoy a slice of cake today in honor of Jane.
My letter and gift to Jane Austen…
Dear Ms. Austen,
I feel as if I might call you Jane, and yet I can't quite bring myself to do it.  It is your birthday once again, and so it is time, once again, to celebrate.  Two hundred and thirty-six is a pretty significant birthday and absolutely worthy of a truly stellar gift, representative of your literary contributions and your truly impressive cult following.  My personal experience has been that it gets a little bit more difficult to buy for people as they get older.  (Although, I do admit, I've never shopped for someone quite as long-in-the-tooth as you).  They're involved in fewer activities; they don't get around quite as much as they used to; and often they're content to simply sit and watch the world around them.   Given your history as a young lady, I suspect you do quite a bit of the latter.  Too bad you aren't writing too…
Did you ever imagine that the novels to which you dedicated so very much of your time (not to mention paper and ink and candle wax) would have so inspired the writing world two centuries after their completion?  The retellings, the spin-offs, the homages…hundreds of them…maybe thousands…all of them inspired by the novels you penned in your (let's admit it, relatively short) life.  Amazing.  Astounding. Unbelievably impressive.  And it's not simply novels you've inspired, but movies, theatrical productions, graphic novels…and like the superhero you are, you've inspired your own action figure!
I wish that you could see the way that you, and your characters, and their stories have inspired the world.  And maybe you can.  Maybe you are looking down upon all of us, smiling a secret smile, thrilled to death (poor choice of words…) at your success.  I hope so.  And while neither a Kindle, loaded with a collection of Austen Authors' works, nor a DVD player, paired with a collection of Austen-inspired DVDs would make sense, I can give you the next best thing, and your imagination will do the rest.
I've always imagined that Elizabeth Bennet was, at least somewhat, an autobiographical creation.  Consequently, Darcy was either a figment of your (very gifted) imagination or inspired by someone of your acquaintance for whom you had perhaps developed a bit of a tendre.  So…I give you the widely accepted 'Best Version of Fitzwilliam Darcy' that our imaginations have conjured: Colin Firth.  Enjoy!
Happy Birthday, Jane!  I am thrilled to be celebrating the release of my Austen homage in the same year that Pride & Prejudice was sold to a publisher!
With my undying admiration,
Alyssa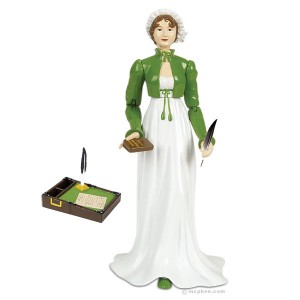 To my lucky readers:  you were already able to share in Jane's gift, but I'm offering something else in addition.  Up for grabs is a Jane Austen action figure, which promises hours of fun in arranging amusing vignettes, while also providing you a touch of literary class when not in use.  Doesn't she look confident, intelligent, and just a touch playful?  I think so.  Definitely.
My giveaway is open internationally, and to enter, please leave a comment telling me what birthday dessert you would serve Ms. Austen, given the opportunity to invite her to tea.  The deadline for entries is December 23rd.
After you've entered, don't forget to continue on to the rest of the Soiree participants for lots more Austen-love!  Thanks for stopping by…I hope I'll see you again!
Participants