Shower Confusion
I have been invited to a baby shower this weekend…for the baby that's getting the 'Opulence Onesies.'  The circumstances of this shower are a little curious.  At least, I find them curious.  I'm wondering if I'm just naive in the matters of baby showers.
Point 1:  The baby shower is being given by five ladies (I find nothing particularly curious in this element alone).
Point 2:  It is a Longhorn-themed shower.  As in Texas Longhorns.  What does that mean, precisely?  None of the gifts they registered for are Longhorn related.  Will the decor be Longhornish?  The games?  Should I dress in burnt orange and white?  (Not gonna happen…)
Point 3:  It was requested that the guests bring a dessert or appetizer.  If possible.  Never had this happen before.
Point 4:  Originally, the shower was to be held in a coffee shop, but it has since switched venues to one of the hostesses' homes.  Was this because it would be odd to bring twenty-some odd desserts and appetizers into a public coffee shop?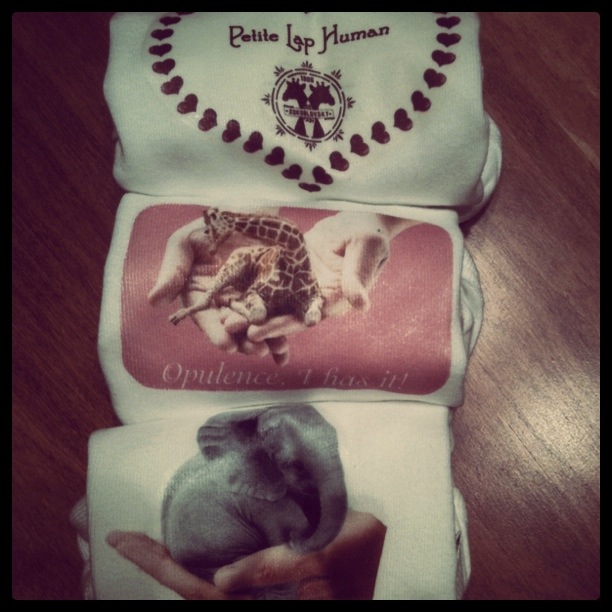 So…Thoughts? 
 I'm just a little thrown, taking it all together.  I will include a photo of the onesies, although I probably shouldn't, because the images are probably copyrighted.  Then again, they're only ironed-on and are likely to fade into oblivion before any legal action can be taken.
And the winner of the AUSTENTATIOUS ARC is…Blake!!
(Proof that hard work does pay off!)
There will be other chances to win a copy, and I would truly appreciate it if anyone who didn't win this time around would consider leaving my widget up for the duration of the countdown.  In return, I will give you two entries into all future contests.  
Posted in
life
on 10/07/2011 03:32 am