Getting my Halloween on…maybe
I have been invited to a Halloween party.  But it's being held on October 22nd and mostly kid-focused.  The invitation only mentioned costumes as a sort of afterthought.  Maybe because they're expected, and maybe because no adults will be wearing one.  I kinda want to wear a costume.  And I kinda don't.  I don't want to be the only one wearing a costume, and I don't want to be uncomfortable in my costume for the duration of the party either.  So I'm not sure what to do.
Browsing through Pinterest a couple of weeks ago, I found a lovely costume–a unique, classic, literary costume that I would be delighted to wear.  If I knew that I wouldn't be the only adult in costume.  And if I could pull it together with minimal financial outlay and crafty effort.  But I'm thinking about it, brainstorming, trying to psych myself up for it. 
Here it is:  the picture that started it all.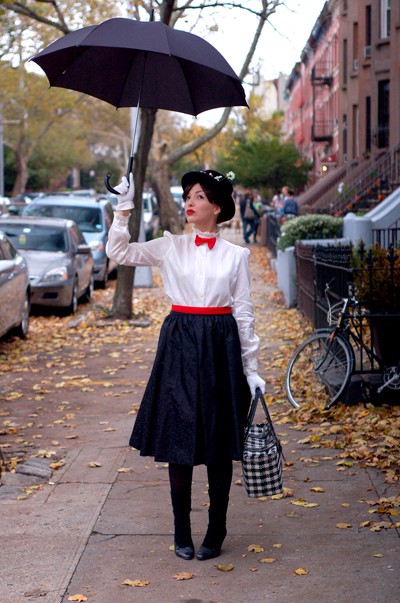 I love it!  I am a HUGE fan of Mary Poppins…although I must admit I've never read the books.  I love the movie and the musical (the only Broadway show I saw while in NYC a few years ago), and the idea of a magical, no-nonsense, nanny who is practically perfect in every way.  I have a skirt that will work, and a blouse, and a red bow tie, courtesy of a ten-minute speed sew by my mom.  I have black tights but no shoes that would be perfect, and I'd need to fashion a hat and borrow a black umbrella.  I'm excited just looking at the picture!  Giddy even.  But it may come to nothing, because if no other adults are dressing up, I won't either.  Too bad I couldn't arrive and blow the uncostumed masses back to their houses on a huge gust of wind….
Here are couple of other photos my Mary Poppins search turned up.  Love.