Little Miss Austen
It's very wintery here today.  The temp dropped thirty degrees since yesterday, the mosquitos have skedaddled, and the sky has that ombre shading that warns of bad weather to come.  I got the kids off to school, walked the dog, and then came home to sit in the lovely quiet with my Ikea cinnamon roll (a splurge from yesterday), my cup of hot chocolate, and The Name of the Star, a YA by Maureen Johnson about a Louisiana girl in a London prep school, while a Jack the Ripper copycat killer is on the loose in London.
When the hot chocolate disappeared, I was forced to concede that I should probably get some actual work done.  So here I am, blogging.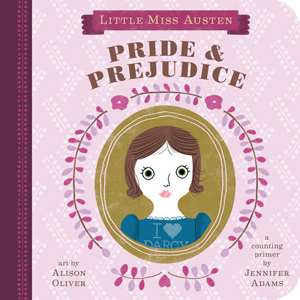 Today I'm here to tell you about some adorable board books.  Not my usual fare, I know, but these are just too cute not to mention.  The one that caught my eye, first on the blog of Laurel Ann Nattress, editor of the recently released Jane Austen Made Me Do It, isPride and Prejudice: A BabyLit Board Book by Jennifer Adams.  You may be thinking that Pride and Prejudice is a little too advanced for the board book set, but it is so cleverly written, that you really do get a sense of the main themes of the classic.  Plus, it's just downright adorable.
From Publisher's Weekly (I'm including this so you can get a feel for the storyline): 
"Launching the BabyLit series, this counting book delivers a (very) simplified version of Austen's Pride and Prejudice. Adams opens with "1 english village" and "2 rich gentlemen," the pale, dapperly dressed Mr. Bingley and Mr. Darcy. Later follows "4 marriage proposals" and "5 sisters," and the book closes with 10, as in "10,000 pounds a year." While many entries feel like filler ("6 horses, 7 soldiers in uniform"), Oliver's Edward Gorey–meets–Etsy sensibility should make this a hit with English lit students. Available simultaneously: Romeo & Juliet. Up to age 3. (Aug.)"
Just look at that representation of Longbourn, Netherfield, and Pemberley!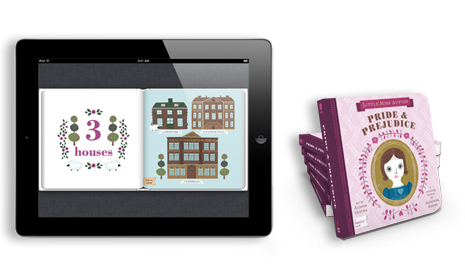 Charmed? I give you some other BabyLit choices… 
(R&J is out now, the others are coming…)  I'm overwhelmed at the cuteness!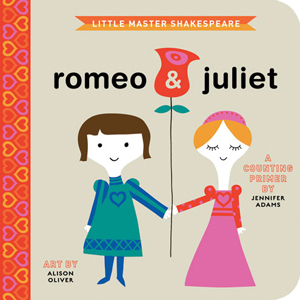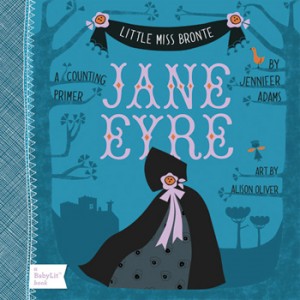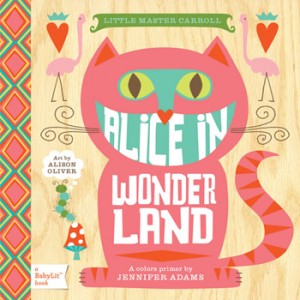 Images via here and here.
Posted in
books
on 10/28/2011 02:43 pm