Book Review Club ~ October 2011
It's insane that it's already October! I feel like I missed half of September!  But it's already the first Wednesday of the month, and you know what that means…Barrie Summy's Book Review Club!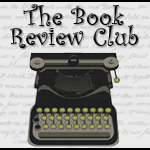 Click icon for more
book review blogs
@Barrie Summy
I haven't had the time to read that I'd like, but I did manage to find a new author and a new series, and I only have the teensiest regret that I started with book four.  I'll definitely be hunting down books one, two, three and five.  Getting on with it…this month I'm reviewing A Hundred Thousand Dragons  [A Jack Haldean Mystery] by Dolores Gordon-Smith.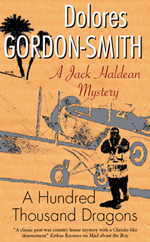 A former pilot in the Royal Flying Corps during WWI, Jack Haldean is dashing, charming, and fiercely loyal.  You get the impression right off that he's both a man's man and a lady's man, which is why it's so surprising–and mysterious–that he gets called out in a horribly embarrassing manner in the lounge of Claridge's Hotel in London.  He's having a drink with his soon-to-be cousin-in-law Arthur Stanton when an old acquaintance, an 'Assyrian Bull' of a man, Durant Craig comes over and oafishly makes a scene.  Jack refuses to defend himself, and afterwards to confide in Arthur, and I'll tell you the suspense of not being in on the mystery is excruciating!
A few days later, Jack is attending a costume party, attended by both Arthur and Vaughn, who was also a witness to Jack's verbal flaying.  Less than a minute after Jack steps onto the patio, overlooking a little wood and a river, a fantastic explosion lights up the night.  Jack's penchant for amateur detective work and his rapport with the local contabulary place him in the middle of what would seem to be a cozy country house mystery.  Until the real reason for Mr. Craig's behavior is revealed, and the mystery deepens and widens, reaching to London, and all the way into Egypt, as far back as the war.
Naturally I do not wish to give any of this riveting, intense plot away, but I will tell you that there is history, poetry [Ozymandias by Percy Bysshe Shelley], mystery, tension, suspense, and an unexpected note of bittersweet romance.  This book had the tightly woven plot and brilliant characterization of an Agatha Christie mystery, but Jack Haldean is much sexier hero material than Hercule Poirot.  I very much look forward to catching up with this series.  Dolores Gordon-Smith's website gives a brief biography of Jack Haldean (the gist of which may be present in the earlier books in the series).  It also has pictures of her birthday-wish-come-true: an open-cockpit flight in a Tiger Moth, the plane Jack Haldean flies in A Hundred Thousand Dragons.  This sounds both exhilarating and terrifying at the same time.  I could probably handle it without any loop-de-loops, but throw one of those in, and the screaming would be heard 'round the world!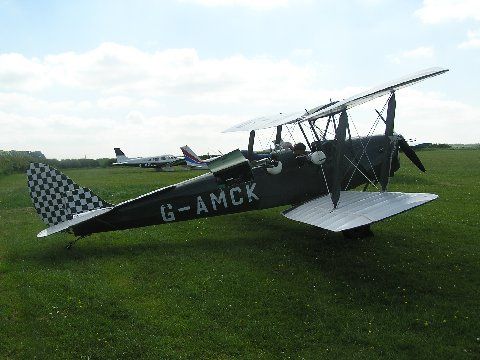 [via]
This book is highly recommended! 
Go visit Barrie's website for a list of this month's reviews!