A Primer
This post is just a quick and friendly tutorial on a few often-confused words:
And to make sure I don't steer you wrong, I checked my definitions with Webster's Dictionary.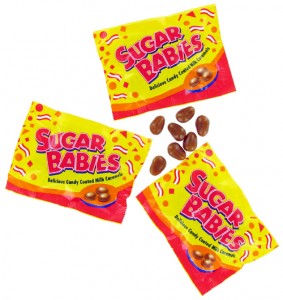 Awe/Aw/Ah
Awe:  wonderment (or dread), as in "I am in awe of how many Sugar Babies you can consume in a single sitting."
Aw:  a term used to express sympathy or adorableness (can be real or fake), often paired with a head tilt, as in, "Aw, too many Sugar Babies, huh?  Feel better."
Ah: an onomatopoeic term used during a lightbulb moment (or a pretend one), as in, "So what you're saying is that with Sugar Babies in the house, you have the self control of a toddler.  Ah."
Yeah/Yea/Yay
Yeah:  a laid-back response in the affirmative, as in,  "Yeah, I'm bringing Sugar Babies, why?"
Yea:  an affirmative response used in oral voting.  "I vote yea on the proposal of confiscating the Sugar Babies!"
Yay:  a cheer, expressing excitement, encouragement, or approval, as in, "Yay!  Sugar Babies!"
I hope this has been helpful.