Ta-Ta Confusion
I think I started this post over a year ago and then realized I never finished or published it.
This post chronicles an embarrassing, but hilarious, moment for me.
My husband and I were going on a trip to Portland, OR–no kids–and I was dropping the kids off at my mother-in-law's house before heading to the airport.  We decided to go to lunch first, and as she'd recently been to a place she liked, she suggested it.  I can't remember the name of it…something or other House maybe…but I was game.
I don't know if this is relevant or not, but I will tell you that the restaurant appeared to be owned and operated by African Americans.  It was charmingly located in an old house in an old neighborhood, and was quite classy and quiet until I dragged my boys in there.  We found something on the menu for them and then I looked it over myself.  Finally I decided on the barbeque beef stuffed baked potato, which was referred to on the menu as a 'Ta-Ta Platter.'  Pronouncing this in my mind as 'ta-ta/goodbye' (short a),  I thought this a rather hoity-toity thing to call a baked potato.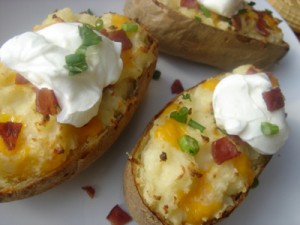 You can probably see where this is going.
My mother-in-law and I both orderd the Ta-Ta Platter, each of us pronouncing it the same to the no-doubt baffled waitress.  We ate, it was delicious, we left.  It wasn't until I was regaling Butters of this story at the airport that I saw the utter ridiculousness of the situation.    It was a potato platter–pa-ta-ta (short a/long a/long a)!  And like some society matron in a mink stole and pearls, I was ordering it as an uppity ta-ta/goodbye platter. 
After that I dissolved into a fit of giggles.  And resolved to see if I was only dufus in the family.  Believe it or not, I drew up a mini-menu and asked my father-in-law and sister-in-law to 'order off the menu.'  My menu offerings were specifically selected to insure that they both chose the baked potato.  (Genius, right).  Well both of them ordered exactly the way I ordered–the dufus way!  But I felt only slightly better.  We're probably a hilarious memory for that waitress…  Good times.
Posted in
life
on 08/18/2011 03:40 am