Snapshot
Inspired by Stacy's post, I'm giving you a little update of my life right now:
I'm reading Ammie, Come Home by Barbara Michaels for the Cherry Forums Gothic Book Club.  And I missed cashing in on my Texas Gothic (by Rosemary Clement-Moore) hold at the library by ONE DAY due to a recent vacation.  Now it's back on hold…  Instead I checked out Texas Pastry Queen for a little inspiration.  I am CRAVING a piece of lemon meringue pie, people!!
I'm watching all the shows I DVR'd over vacation…Burn Notice, Leverage, Warehouse 13, In Plain Sight, etc.  The rest of my family is watching the Little League World Series.
Both boys survived their first days of school, PFB in 4th grade, GFB in 6th–junior high!!  I survived a day of PTA volunteering and my A/C compressor gradually dying in 100 degree weather.
I'm desperate for a little rain…a sprinkle, a shower, a mist, or a downpour.  I think we've had three days of rain since March.  The swimming pool is like a warm bath.
I'm thrilling over a great blurb I received for Austentatious from Cindy Jones, author of My Jane Austen Summer (not allowed to share it yet)!  And trying to figure out my best strategies for promotion.  (If you have any thoughts on what worked for you or what sorts of things you love that authors do, please let me know!)
I'm back from a week-long vacation to Asheville, N.C. and Charleston, S.C.  There was a black bear (plus two cubs!) siting.  And a Trader Joe's visit and stock-up.  And some South Carolina barbeque…it's all about the mustard, baby.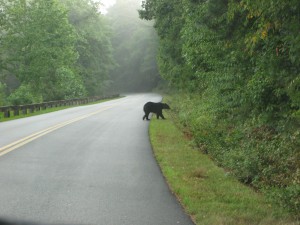 It's green chile time, and I've stocked up on my roasted *hot* green chiles and am prepared to make a green chile stew in the next few days.  I'll also be trying out a new gluten-free recipe (Orange Juice Bread) and one of Jeni's Splendid Ice Creams–I totally dropped the ball on this over the summer.
That's about it, in a nutshell.  What's going on with you?