Reading is so Cool!
Only 12 days till the first day of school here and the official beginning of my tenure as PTA Literacy Chair.  I posted a few weeks back on theme for the library,  Reading Ninjas: No Book is Safe, and at the time, I imagined ordering or creating some sort of giveaway incentive sporting ninjas in a variety of attack positions.  I have since rethought that plan.  But I like the new plan even better!
First of all, I'm calling this The Year of the Book (in keeping with the Asian theme…I don't actually know where ninjas originated, so I'm glomming on to a whole continent).  And the incentives will be colored wristbands based (loosely) on the karate belt hierarchy (totally mixing themes…and maybe cultures here.)  So the first belt a child can earn will read "Reading Ninjas * White Belt"…and the last will read "Reading Ninjas * Black Belt."  In between, they can earn yellow, green, blue, and red belts.  I had to cut a few colors out due to budgetary limitations.  Sounds pretty cool, right?  [image via]
I was trying to figure out how to create a ninja star logo, its points made out of books, but I may prefer something like this [via] (redesigned, of course):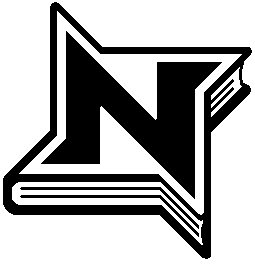 I'm envisioning ninja cookies and brownies…it's gonna be awesome!