Book Review Club ~ July 2011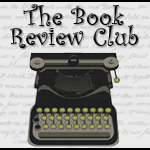 Click icon for more
book review blogs
@Barrie Summy
Well the 4th has come and gone, all without me getting my fireworks fix.  And suddenly it's time for Barrie Summy's Book Review Club all over again!  Almost half the summer is gone (speaking from a school calendar point of view), and I feel like it's just started.  I've been to the pool plenty, but I haven't been to the beach once.  I've made watermelon lemonade sorbet, but no homemade ice cream.  I've tubed at the lake, but I haven't laser-tagged or bowled.  There's so much still to do!  And so many summer books to read…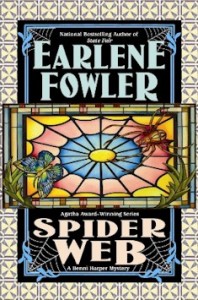 But for this month's installment of the Book Review Club, I'm reviewing Earlene Fowler's SPIDER WEB.  This book is # 15 in the Benni Harper mystery series, and I've read them all.  In a nut shell Benni is a ranch woman living in San Celina, California, along the central coast, dividing her time between her job at the Folk Art Museum, her cattle responsibilities, and her family.  She' s married to the Chief-of-Police who, for obvious reasons, likes to follow protocol, but she somehow keeps managing to stumble into the middle of local murder scenes, and then naturally she can't help but sleuth around a bit until the crime is solved.
In this particular book, a sniper is tormenting the citizens of San Celina, and while it's naturally causing quite an uproar in the city's police department, it's also taking a personal toll on Benni's husband Gabe, as it's triggering post-traumatic stress syndrome from his time in Vietnam.  So while Benni is trying to plan the town's first annual Memory Festival downtown, she's caught up with the stress of having a sniper on the loose, dealing with Gabe's traumatic and violent nightmares, not to mention her grandma's decision to set her father up with a love interest, and a mysterious woman who has recently come to town and is rather suspiciously interested in Benni.
What's to love about this series?  Number one, I'd say the community that Ms. Fowler has created.  From Benni's feisty grandma Dove, to her sassy fashionista best friend Elvia, to her pure-country cousin Emory to her deep and mysterious husband Gabe, I feel like I know them all.  And San Celina is painted with such love and vibrancy that I feel like I could live there.  (In fact, I included it in a blog post a few years ago: fictional places I would like to visit…)
I also love that the stories are not too intense.  There are some stressful moments reading them, but those are nicely balanced out by good family, good friends, and good food (Benni is a good eater!).  Ms. Fowler has an easy writing style, and Benni is a spunky, adaptable narrator that deals well with everyone.
Finally, I enjoy how in each book, Ms. Fowler weaves in just the right amount of history on a chosen subject.  For SPIDER WEB, the topic was the devastating effects of Vietnam on the survivors and the stories of the unsung heroism of  field nurses in various wars.  That extra element of realism drew me even further into the story.
I truly hope there will be more Benni Harper mysteries.  But if there aren't, you can bet I'll be reading the series all over again each time I need to visit San Celina.
For plenty of other reviews…click on the typewriter above to swing by Barrie Summy's blog!