Austenland…
It's been a litle while since I've read Shannon Hale's debut adult novel, AUSTENLAND, but I remember being really psyched about the book and the concept…and then loving it.
From Publishers Weekly, via Amazon: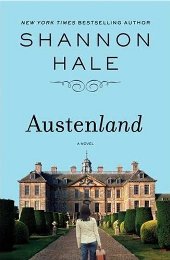 In 32-year-old singleton Jane Hayes's mind, no man in the world can measure up to Fitzwilliam Darcy—specifically the Fitzwilliam played by Colin Firth in the BBC adaptation of Pride and Prejudice. Jane is forced to confront her Austen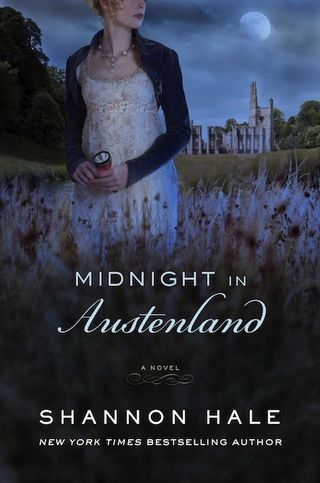 obsession when her wealthy great-aunt Carolyn dies and leaves her an all-expenses-paid vacation to Pembrook Park, a British resort where guests live like the characters in Jane's beloved Austen novels. Jane sees the trip as an opportunity for one last indulgence of her obsession before she puts it "all behind her—Austen, men, fantasies, period," but the lines between reality and fiction become pleasantly blurred as Jane acclimates to the world of Spencer jackets and stringent etiquette rules, and finds herself torn between the Darcyesque Mr. Nobley and a forbidden tryst with Pembrook Park's gardener.
Doesn't that just sound lovely?  I definitely need to read it again, as much of it has faded from my memory.  And I want it all to be fresh, just in case the sequel MIDNIGHT IN AUSTENLAND, an homage to NORTHANGER ABBEY, draws on the original story line.  I have a second reason too…AUSTENLAND is being made into a movie starring Keri Russell, Jennifer Coolidge, and a bunch of other actors I'm not familiar with but whom I'm sure are great!  I just got caught up on Shannon's blog…she co-wrote the screenplay and is now in England with one third of a movie trailer to call her own!  I'm vicariously thrilled, both jealous and super-psyched!!
Posted in
books
on 07/14/2011 03:18 am