Adventures in Eating
We went to Austin last weekend, mostly to visit my seven-month old niece, but partly because I just missed the city.  I lived in Austin through most of college (I went to UT Austin) and then worked there for five years before moving to Houston, and I must say, it's like a whole new world out there.  I believe that during my time in Austin, the South Congress (SoCo) area was a hotbed of prostitution, but now it's one of the quirkiest, hippest parts of the city. 
We got into Austin at about lunchtime on Sunday and headed straight for Hopdoddy Burger Bar in SoCo, which I had read was very gluten-free friendly.  I have yet to encounter another burger restaurant that carries gluten-free buns, so they got points for that.  Then, when I saw The Goodnight burger on the menu, complete with Sassy Sauce, they got big points for that too.  My burger was delicious (the gluten-free-bunned burger was yummy too), and the Maine Root rootbeer was delicious.  A+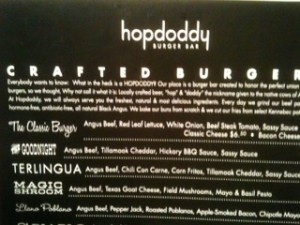 Dinner doesn't much bear mentioning in my opinion, except for the fact that my boys discovered they don't like watermelon aquas frescas.  And I discovered what horchata really is.  But after that, we hit Amy's Ice Cream, an Austin institution, where GFB ordered a scoop of vanilla with M&M's and PFB ordered white chocolate with gummy bears (ugh!)  Butters and I split the The Hunt for Chocolate Orange Chip (don't really get that…) , which was delicious!  I almost wished I had my own…almost.  A+  (See those Keep Austin Weird shirts hanging in the back?)
Fast forward to Monday morning.  Seeing as the hotel was charging $12 for breakfast buffet stocked with foods my kids either wouldn't or couldn't eat, I decided to take them out for breakfast.  PFB wanted a McDonald's hashbrown (breakast of champions!), but I wanted something Austin-esque, so we went to Taco Deli, which my sister had raved about after her recent visit to Austin, and which was billed as being gluten-free friendly.  I discovered that my knowledge of Austin streets is pathetic at best.  It took us for-ever to get there and when we did, we discovered that location wasn't quite open yet.  Instead, they had a taco cart available to make a few specific tacos.  But they couldn't make anything gluten-free because they only had a single grill.  (Probably deserved a mention on the website…)   So GFB ate a peach and some dry granola in the car.   It was good, but I didn't get my taco of choice.  A- with potential.
Lunch just gets crazy.  The Schlotzsky's on South Lamar has one of those touch-screen Coke dispensers that lets you flavor your drinks, for thrilling combinations like Peach Sprite, so naturally both boys wanted to go there.  Well I don't know of anything that Schlotzsky's has that GFB could and would eat, so I decided to swing by Freebird's World Burrito first, which is gluten-free friendly, and then back to Schlotzsky's to eat, so that they could get refills on their wonky drinks. 
Number one problem:  I made the mistake of thinking that Freebird's was on South Lamar just like Schlotzsky's.  It's on South Congress.  I was already on South Lamar when I realized this, so I had to navigate to South Congress knowing two facts:  South Congress runs parallel to South Lamar to the east.  On my way, I took in the line for Home Slice Pizza, which was down the block and around the corner, outside…in 95 degree weather.  Crazies!
Number two problem:  There was no parking in the Freebird's lot.  None.  I circled twice before finally finding  a space.  We ordered our gluten free tacos and got back in the car.  With my recent experience to guide me, the trip back to Schlotsky's was a piece of cake.  And the boys were in heaven with their Vanilla Barq's and Raspberry Sprites and all manner of other drinks.  I was exhausted.  And my sister-in-law, to whom I'd offered to bring lunch, finally got fed about an hour later than she'd probably expected.
I have to admit, Austin does have a lot of gluten-free options, but my kids are such picky eaters that it's hard to take advantage of them.  Instead I have to resign myself to eating lunch at a Schlotzsky's when there are so many other untried options available. B+
Posted in
life
on 07/18/2011 12:20 am