Reading Ninjas
Somehow I got sucked into volunteering to be the Literacy Chair on the PTA board at my son's elementary school.  Somehow being that no one else stepped up.  So basically that means I'm the liasion between the school library and the PTA.   I think it's going to mean a lot of organizing volunteers, sending out library-relevant flyers, planning the end of year bookfair, etc.
Then there's the good part…
Our PTA has a REALLY COOL program, the gist of which is like this:
1.  Kid reads a book
2.  Kid takes online test on the book (10-20 multiple choice questions) to confirm comprehension.
3.  Kid earns points that translate into bookfair credit…
4.  Scholastic books sponsors a buy-one-get-one free bookfair at the end of the school year, and PTA offers each kid $0.10 per earned point, up to $25 at the bookfair.
5.  Kid who has earned 250 points walks away with $50 worth of books.
Isn't that AWESOME???  What's crazy is that so few of the kids earn out their potential.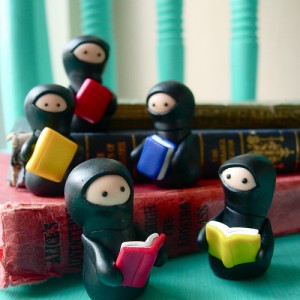 So this year, I'm hyping it all year long!  My theme (assuming I can get approval) is 'Reading Ninjas: No Book is Safe!'  And I plan on offering some sort of ninja-related incentive for significant point milestones:  50/100/150/200/250. 
I'm thinking 50 could be 'Ninja In-training,' and my younger son suggested 250 should be 'Ninja Mastah.'  Not so sure about his suggested spelling…  I need to fill in the blanks for the rest.  ('m open to any suggestions.)  I'm considering those bottlecap/capster trinkets that can be put on a necklace or bracelet, or even buttons, so they can proudly show off their ninja level.   Naturally the more awesome the weapon, the higher the level…  I will be using this tutorial to create the graphics.  Aren't they so cute?  Intimidating scary-cute?  I may have to sneak a book in their hands…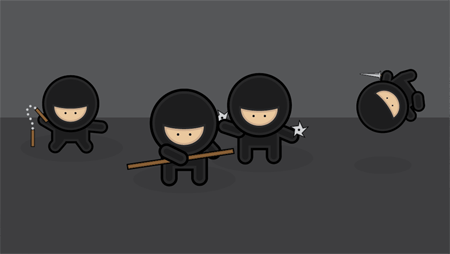 I think it has the potential to be NINJA AWE-SOME!