Gettin' Crafty
I have to admit, I've been wondering what's been keeping visitors from commenting on my posts since I've switched my blog over from Blogger to WordPress.  Is the content not thought-provoking?  Is the math problem that proves you're a real person just a little too challenging?…we can switch to single digits, just say the word!  Is it the extra effort of typing in your name and email address?  Seriously people, what is it?  Please comment and tell me!
While I wait, I'll let you in on what I've been doing.  No writing yet.  I've been testing out Scrivener just a little bit, trying to write a proposal, and…collaging!  I had my doubts, but it worked so well with the last book that I thought I'd give it another shot.  (I will tell you that several elements on Book 2's collage didn't make it into the actual book, but they all served their inspirational purposes.)  So I spent a good bit of my free time last week mapping out a high level story line for Book 3 and casting all the characters.  Then I printed off pictures, pulled out my scrapbooking supplies (which have not been used for scrapbooking in a good long time), and started taping things down.
Here's what I came up with.  It's actually supposed to look a little scrapbook-y.  Like it was created as a sort of bulletin board (or scrapbook) by the twelve year old daughter of the protagonist.  I'm pretty happy with it, and I think it will serve nicely as a bit of inspiration.  I would literally LOVE your comments.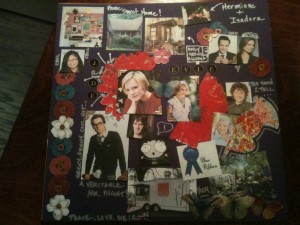 Posted in
collage
on 06/23/2011 03:59 am