Book Review Club ~ June 2011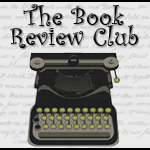 Click icon for more
book review blogs
@Barrie Summy
I considered reviewing NINE COACHES WAITING, by Mary Stewart for this installment of Barrie Summy's Monthly Book Review Club, but then I decided I'd said my piece on Ms. Stewart, and it was time to talk about another author.  Or, in this case, authors.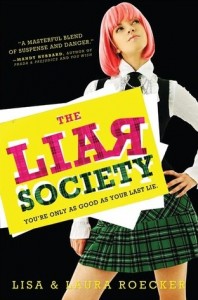 I stumbled over Lisa and Laura Roecker on Twitter, with their pink hair and bubbly personalities, and it wasn't long before I knew I had to read their co-written debut, THE LIAR SOCIETY.
THE LIAR SOCIETY is the story of how Kate Lowry takes back her life after her best friend Grace Lee dies in a fire that almost everyone insists was an accident.  In the year after Grace's death, Kate is wallowing in despair, distanced from her friends and her parents, and seeing a therapist regularly. 
And then she gets an email from Grace…an email that hints that there are secrets surrounding her death.  Galvanized into action but clueless how to start, Kate forces herself to think back, to remember that night, to wonder at the little inconsistencies that stuck out in her mind.  And then, as the emails begin coming in regularly, Kate starts sleuthing around, asking questions, finding clues, and discovering that the mystery is really more of a conspiracy.  Enter Seth, a geeky neighbor dude with a mean crush on Kate and Liam, a cool, mysterious bad boy who Kate just might let herself crush on, and you've got a motley crew of amateur detectives/conspiracy theorists trying to keep up as the secrets spiral into a veritable black hole of lies, cover-ups, and other secret society stuff.
That's all I can tell you.  If you want in on the secrets, you're just going to have to read the book.
What I loved about it (other than the pink hair and pearls…):  Kate is an excellent protagonist and totally her own person.  She is feisty and funny and the perfect combination of daredevil and careful.  She is sentimental but not sappy, and she does the absolute best she can given her limited life as a teenager.  I was totally cheering for her.  I loved both Seth and Liam and wasn't totally sure who'd make it as the boyfriend material in the end.  And I loved the rare group dynamic of Kate and Seth and Liam.  And the geeky side of me loved the school crests, the Latin phrases, and the word puzzles.  Really, there is so very much to love about this book.
And I think…I hope…there will be a sequel.  Things didn't totally tie up in the way you like things to tie up in a single book…so I have my fingers crossed for Book the Second.  (Plus, THE LIAR SOCIETY website has a menu option for 'The Books'–as in plural.  How's that for good detective work?  Uh-huh. )