Muppets!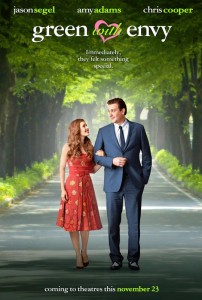 The Muppets are back, and I could not be more giddy with excitement!!
I used to love the Muppets.  My family sat glued to set when The Muppet Show came on, giggling and cackling over Miss Piggy's antics and Gonzo's craziness, and Beaker's unfortunate accidents.  And the celebrity guests raised things to a whole other level.
Then came the movies…The Muppet Movie was a little artsy, The Great Muppet Caper, about a jewel heist in London , was my favorite, and The Muppets Take Manhattan was another classic, with Kermit getting amnesia and Piggy planning a wedding, starring the comical Dabney Coleman.  Things went a little wonky with Muppets Treasure Island and The Muppets from Space, but I'm convinced the crew is back on track.
That's right, the Muppets are back with another movie this Thanksgiving!  More kookiness, more musical numbers, more herds of Muppets shuffling around…  It's gonna be great.  And with Amy Adams (whom I love) and Jason Segel (Marshall on How I Met Your Mother) joining the mix, there's no reason not to head out for a movie before the big dinner!
So Save The Date!  The Muppets Are Coming November 23rd!!