Book Review Club ~ April
This month I stepped, ever so slightly, outside my comfort zone of women's fiction and YA to read The Swiss Courier by Tricia Goyer and Mike Yorkey. I enjoyed it so much that I decided to select it for Barrie Summy's monthly Book Review Club. Be sure to click on the typewriter if you're looking to add to your TBR stack…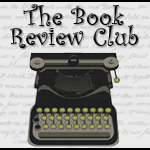 Click icon for more
book review blogs
@Barrie Summy
Most often I go to the library looking for something specific, or in the mood for something specific. Well this book didn't meet either of those specifications. I happened to find it in the New Books section and was immediately intrigued by the blurb on the back. Not to mention the reviews.
I have always been interested in the history of WWII. Last year, I saw Valkyrie with my husband (and had the realization half-way through the movie that things weren't going to end well…Brilliant, huh?) and despite not understanding why everyone but Tom Cruise had a German accent, I really enjoyed it. The Swiss Courier picks up the story after the events of Valkyrie (i.e. after the assassination attempt on Adolf Hitler's life.)
From the back of the book:
It is August 1944 and the Gestapo is mercilessly rounding up suspected enemies of the Third Reich after an attempt on Hitler's life. Gabi Mueller is a young woman working for the newly formed American Office of Strategic Services (forerunner to the CIA) in Switzerland. When she is asked to put herself in harm's way to safely "courier" a German scientist who is working on the atomic bomb out of enemy territory, the fate of the world hangs in the balance.
This book is jam-packed with action, tension, and gripping suspense. It's impossible–even for the reader–to know who to trust. For a time of such intense uncertainty that paradoxically required daring citizens to behave in the most careful and audacious of manners, it is a relief to know that humanity came together in unexpected ways to fight against the atrocities inflicted by Hitler's idea of a Perfect Race. Certainly there was the need for unshakeable faith in God, but there was also a need for ultimate faith in complete strangers–strangers who could just as easily save them as betray them.
I enjoyed the book trailer as well.
.
As mentioned above, this book was duelly written by Tricia Goyer and Mike Yorkey. This is the third book I've read this year that has been co-written. Two books by a man-woman team (this one and Wild Ride by Jennifer Cruisie and Bob Mayer) and one by two women (Dangerous Creatures by Kami Garcia and Margaret Stohl). I have to wonder how that works–what strategies they employ, what parts are written by whom, etc. I've recently heard of several other man-woman writing teams and have to wonder if this isn't the wave of the future…