The Books!
Early Praise for Austensibly Ordinary…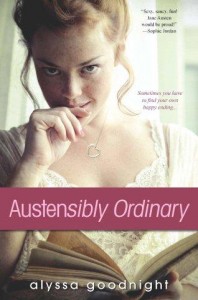 "Sexy, saucy, fun! Jane Austen would be proud!" 
~  Sophie Jordan, New York Times bestselling author
"Frothy, fun, and full of juicy secrets, Alyssa Goodnight's Austen-inspired romp is no Plain Jane."
~  Erin Blakemore, author of The Heroine's Bookshelf

Praise for Austentatious…
"Jane Austen meets Austin, Tex., in this fast-paced, quirky novel about the unpredictability of love. … Goodnight's breezy style with a believable heroine, lively conflicts and lots of best-friend confidences elevates this above the usual chick lit fare."
~ PUBLISHERS WEEKLY
"This humorous romance will appeal to all Austen fans while bringing a fresh twist with its magic journal."
~BOOKLIST
Click here to read more about the books and (pre-)order!
A Little Bit About Me…
Jane Austen, Indiana Jones, and Dr. Pepper — click here for the lowdown.

The Latest from the Blog...